Jersey cricket: Keith Dennis gets ICC Global Lifetime award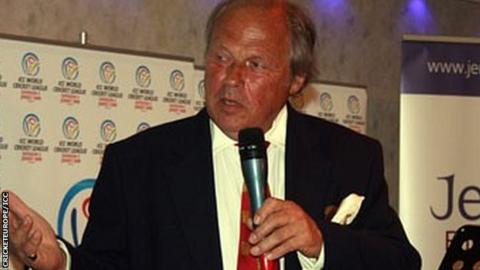 Former Jersey Cricket Board chairman Keith Dennis has again been posthumously honoured by the ICC.
Dennis has been awarded the ICC's Global Lifetime Achievement award, having in February.
He during Jersey's
"KD dedicated his life to cricket and was instrumental in Jersey becoming members of ICC," said Chris Minty from the Jersey Cricket Board.
"This award confirms his standing in the game and he would have been very proud to receive it," Minty added.
Under Dennis' guidance Jersey left the English cricket structure and became an international cricket nation.
The island became an affiliate member of the ICC in 2005 and were promoted to associate member status two years later after beating Italy in a series of one-day games.
Jersey played their first international tournament in 2006 and hosted the first-ever World Cricket League Division Five tournament two years later, when they lost to Afghanistan in the final.