Brendan Taylor: Why I quit Zimbabwe team for Notts
Last updated on .From the section Cricket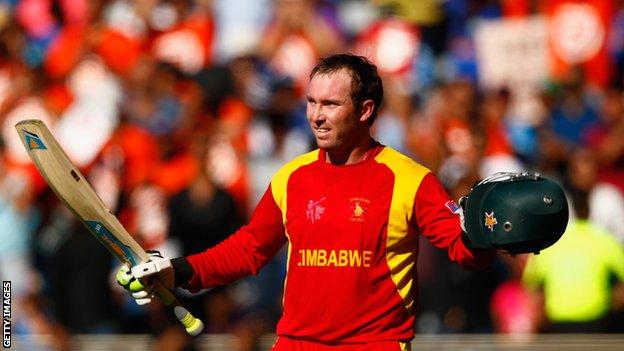 A World Cup star, a national hero, and in the prime of his career - but Brendan Taylor is giving it all up to move more than 5,000 miles to Nottingham.
The 29-year-old's decision to retire from international cricket at the World Cup, having smashed 138 off 110 balls in a group stage match against the then reigning champions India in his final match for Zimbabwe, resonated around the cricketing world.
So why has the former captain and one of his country's greatest players chosen to swap heaving, colourful stadiums at international level for the gentle plod of the county circuit in front of sparse crowds?
Sadly, it all boils down to money. As the fourth-highest run getter at the tournament with 433 runs, Taylor earned around £131 before tax for his efforts in Australia and New Zealand - a meagre 30p per run.
In contrast, established county cricketers such as the right-handed batsman can expect to earn between £50,000 and £100,000, according to the Professional Cricketers' Association.
"It is every international player's dream to put on their country's shirt, that is why we play the sport," he told BBC Sport.
"But our careers do not last forever and I want to go and play in a great set-up, which Notts has provided for me.
"It was not an easy decision but I guess every player would be lying if they say they are not trying to maximise on potential earnings."
Brendan Taylor's international statistics

Tests

ODIs

T20s

Matches

23

167

26

Innings

46

166

26

Runs

1493

5258

594

High score

171

145 (not out)

75 (not out)

Average

34.72

34.82

28.28

Centuries

4

8

0

50s

7

32

5
Money, undoubtedly, remains one of the biggest issues that plagues Zimbabwe, a cricketing nation which has never prospered since being granted Test status in 1992.
Having spent the past couple of years fighting with Zimbabwe Cricket (ZC) over contract and wage issues, the team headed to this year's World Cup amid reports of a dispute over how the allocation of Z$650,000 (£1,219.90) should be split between the 15-man squad.
Only six weeks earlier, the dire financial state that also affects their domestic game was again brought to the fore as the players refused to turn out just two days before the season was to begin over salary concerns, which ranged between US$300-US$1,500 (£203 - £1,015) per month - before a set tax of 50%.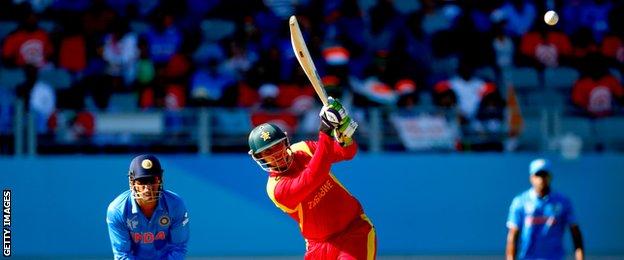 Debt has long crippled ZC, often meaning players are not paid on time or provided with food or living allowances when travelling, and Taylor is not the first of his countrymen to seek an exit route to a different country.
Talented emerging batsman Craig Ervine refused a central contract to play club cricket with Northern Irish side Lisburn and Grade cricket for Morley in Western Australia in 2013, while fast bowler Kyle Jarvis retired internationally at 24 to take up a Kolpak deal with county side Lancashire.
"You are posed with difficult challenges and choices but it is a positive one that I have taken," added Taylor, named the 12th man in the ICC's World Cup Team of the Tournament having also scored an impressive 121 off 91 balls against Ireland and finishing with an average of 72.16.
"It has been a special 11 years but I had to think about my family and my future.
"I am excited about being able to play a lot of cricket, playing in a very professional environment and with wonderful facilities."
Controversies that plagued Zimbabwe cricket
Andy Flower & Henry Olonga, the team's first black player, protested during the 2003 World Cup co-hosted in Zimbabwe by wearing black armbands to "mourn the death of democracy" in the country and were suspended.
England forfeited their 2003 World Cup group match in Zimbabwe over "security concerns", despite the risk of not reaching the knockout stages.
Zimbabwe's Test status was eventually suspended by the ICC and it took six years before they eventually allowed to
return to Test arena in August 2011
- defeating Bangladesh by 130 runs.
The early years of Zimbabwe cricket promised much as they developed into a highly competitive ODI side, only missing out on the semi-finals of the 1999 World Cup because of an inferior run-rate to New Zealand, having beaten India and South Africa in the group stages.
But amid changing political tides in the African country, a predominately white team was deemed unacceptable, despite their success, and internal calls for quotas and interference with squad selection led to the early retirements of many of the experienced players.
The constant rebuilding of the side failed to foster an environment where the team could prosper, and at the end of 2014 they suffered a humiliating 3-0 Test series loss and 5-0 one-day international series loss to Bangladesh, which proved to be the tipping point for Taylor.
"We were on tour in Bangladesh and I struggled, we all did as a team, and the enjoyment factor went out of the window a little bit," he said.
"That is when I thought this is end and I spoke to an agent and made sure I had a plan B in place.
"I just thought time is running out for me."
Selected Zimbabwe internationals who retired to pursue cricket careers abroad (age of retirement)

Sean Ervine (22)

One of 15 players to rebel against ZC in 2003 over quotas and interference with the squad. Fled Zimbabwe in 2004 and now plays for Hampshire

Andy Flower (35)

Sought political asylum in the UK after protesting against President of Zimbabwe Robert Mugabe during a 2003 World Cup match. Played for Essex before becoming England head coach from 2009-14

Murray Goodwin (28)

Played for Glamorgan last season, before retiring in September. Spent 11 years at Sussex
While Taylor may have found a way to enhance both his talents as a cricketer and his earnings, concerns about the state of Zimbabwe cricket have heightened.
Club cricket, which Taylor attributes to helping mould him as a young player, is another area that lacks sufficient funds.
The wicketkeeper says it is vital for ZC to put its resources into restoring the club game to develop the next crop of young players.
However, sport in Zimbabwe seems to be in peril - their national football side were expelled from qualification for the 2018 World Cup for failing to pay an outstanding debt - and without radical changes it may be difficult for the cricket team to keep a hold of its best players or grow as a side.
At the very least Taylor has been given a new lease of life in England and his class shone through as he became the first player in Nottinghamshire's history to score centuries in his opening two first-class matches for the county.
And, he was eager to point out that he will only be 33 when the 2019 World Cup in England and Wales comes around - so could a return to the national side still be possible?
"You never know what the future holds," he said.