Andrew Strauss interested in ECB role after Paul Downton exit
Last updated on .From the section Cricket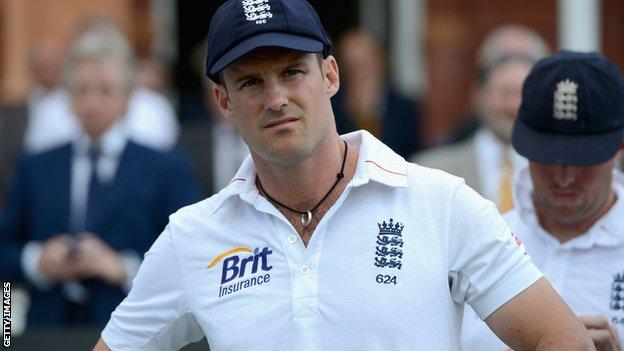 Andrew Strauss has confirmed his interest in the newly-created director of English cricket role with the England and Wales Cricket Board (ECB).
The former England captain has also said it is "very important" for the team to "move on from the Kevin Pietersen situation".
Writing in the Sunday Times, Strauss said "the allure of such a job is undeniable", but wants more detail.
ECB managing director Paul Downton left after England's World Cup exit.
Fellow ex-captains Michael Vaughan and Alec Stewart are also thought to be candidates for the new role as the ECB undergoes a restructure led by chief executive Tom Harrison and backed by incoming chairman Colin Graves.
"It is hard to create any sort of dialogue that English cricket is in a better place today than when Downton started," said Strauss.
But Strauss questioned whether Downton, appointed in October 2013, should be held accountable for England's performances during his tenure, saying he "did not have the time to implement a long-term strategy for England to win the World Cup".
He added: "The ECB seems to be attempting to bring his replacement closer to the team, with more influence over the players and thus more accountability for their performances.
"To anyone who is passionate about cricket, the allure of such a job is undeniable. I am certainly interested in any role that might help English cricket move forward.
"The question, however, is: what exactly is the new job?"
Downton, 58, was instrumental in the sacking of former England captain Kevin Pietersen in February 2014.
Strauss was captain of England when Pietersen was dropped for sending derogatory text messages about his team-mates - and Strauss in particular - to members of the South Africa team in 2012.
Last July, Strauss had to apologise to Pietersen after making an offensive mark about the batsman during a live television broadcast when he thought he was off-air.
Pietersen is due to play for Surrey against Oxford University on Sunday as he bids to put himself back in contention for an international comeback.
In a MCC podcast broadcast on Saturday, Strauss said the ongoing Pietersen debate "threatens to envelop everything at the moment".
He said: "The story has become more of a distraction than him actually playing. The ECB and England's efforts to move on from him haven't worked so far but by winning that will allow them to move forward."
Strauss added that bringing Pietersen back would be a "short-term measure" to help win the Ashes but that there are "too many bridges to build in too short a period of time".