Guernsey to join Sussex Cricket League from 2016
Last updated on .From the section Cricket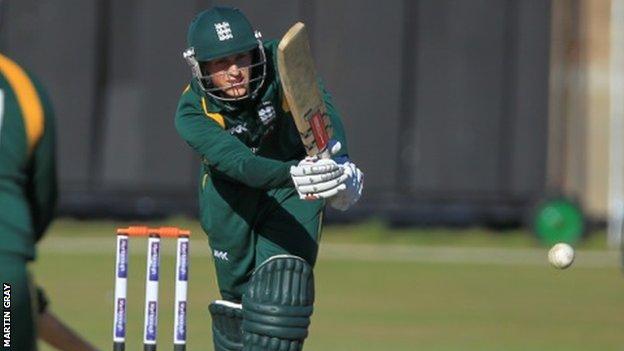 Guernsey will play in the Sussex Cricket League from 2016 after clubs voted unanimously to allow the island side to join the competition.
The sport is the latest island side to play in England after Guernsey FC and Guernsey and St Jacques rugby clubs.
"It's looking at preparing our guys better for international cricket when it comes around," said Guernsey cricket board chief executive Mark Latter.
Guernsey are associate members of the International Cricket Council and hope the move will help to improve their performances of their representative side following relegation to Division Six of the World Cricket League in March 2014.
Guernsey will play as a club side rather than as the national team and will play all their matches away from home on a Sunday.
Guernsey teams playing in UK leagues
Guernsey RFC
- National Three London South East
Guernsey FC
- Isthmian League Division One South
St Jacques RFC
- Hampshire Merit League
Panthers
- Netball South Division Three
The model is similar to the Sussex academy side who play each team once in the county's Premier League.
"With international cricket we've got to make sure that the players at the top aren't divorced from the cricketing ability within their domestic system, so we're looking at something to fit in between and we felt this was the best route to do so coming off the back of our existing relationship with Sussex," Latter told BBC Radio Guernsey.
"We'll start looking at the logistics now," added Latter. "Getting across 10 times over the course of May to August has its own issues in terms of the costs and the transport planning as well as making sure players are available.
"We wouldn't have gone into it without knowing we could manage it on our own resources. It means diverting monies from tours and games that we play as warm-ups and friendlies currently.
"We'll be looking at trying to get some support from the island in the commercial and corporate business world, like Guernsey FC, St Jacques and Guernsey Rugby Club. We'll speak to those guys and hopefully try and share some of their experiences," he added.