Tom Poynton: Derbyshire cricketer on life after tragedy
By Sam Sheringham
BBC Sport
Last updated on .From the section Cricket
Just over a year ago, two days before the start of a new season, Tom Poynton was one of county cricket's bright young prospects.
And then, in one fatal instant, the lights went out.
The Derbyshire wicketkeeper was in the passenger seat of a Ferrari Spider when his dad, Keith, lost control and crashed into a tree. Keith, 57, died instantly, while Tom suffered serious leg injuries.
Overnight, the then 24-year-old had to face up to not only the loss of a parent but also the real possibility he might never have been able to play cricket again.
"I can't even think about the period of time after the crash," Poynton, a former England Under-19 international, tells BBC Sport. "It's a very surreal experience when you go through a tragedy and trauma to that extent.
"It's a little bit dreamy and then you realise the repercussions and significance of what has happened thereafter. You've got to live with that forever.
"The most difficult time is when you have no stimulus around you and you are alone with your own thoughts, lying there in bed with the darkness.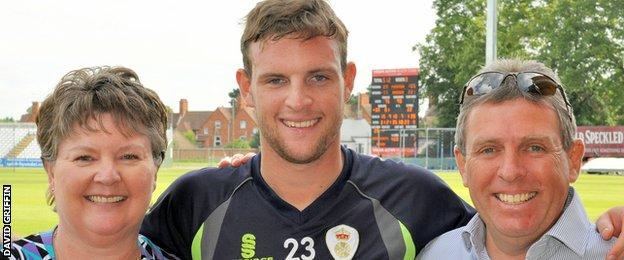 "You never get over it but you find a way to cope with it. I just don't believe in being anything other than an optimist."
Poynton's positive outlook has been central to a physical and emotional rehabilitation that has taken him back into the Derbyshire first-team squad for the start of the 2015 season and created the possibility of a career beyond his playing days.
As messages of sympathy flooded in - former England captain Michael Vaughan and wicketkeeper Matt Prior were among those to offer their condolences - he had surgery to repair his shattered ankle and stimulate the growth of new cartilage.
But while many, understandably, would have been engulfed by grief and self-pity, Poynton launched himself into community projects with Derbyshire.
He was given a role in the club's commercial and marketing department and put in charge of fostering better relations with Derby's cricket-mad south-Asian population.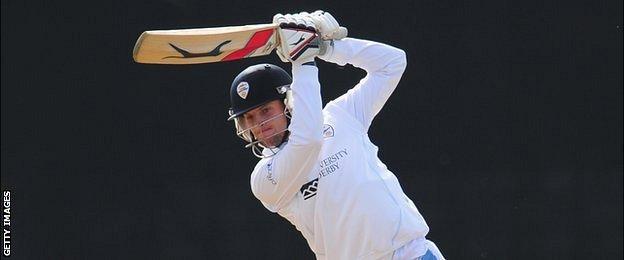 He also bought a stake in a start-up food business, worked as sponsorship liaison manager with Briggs of Burton - the company where his father was a director - and was invited to be part of the Mayor of Derby's charity committee.
"You've got to look for things to move on and be positive with in life," adds Poynton. "That's what my dad would have wanted me to do and that's why I've pushed myself into every experience I could do while I've not been playing.
"I've gained hugely from that, not just as a person, but in the fact that I've made positive use of probably the harshest time I'm ever going to have in my life."
Poynton, who has played 33 first-class matches and made his maiden century in 2012, jokes that the growing up he has had to do over the past year makes him feel nearer 55 than 25.
In February, while an inquest into his father's death was bringing the tragedy back into sharp focus, he was awarded a personal development scholarship by the Professional Cricketers' Association in recognition of his efforts to gain skills that would help him in life after cricket.
Tom Poynton's career
2007:
Makes T20, List A and first-class debuts as a 17-year-old
2008:
Selected for England's Elite Player Programme
2009:
Tours South Africa with England Under-19s
2011:
Loses place to returning wicketkeeper Luke Sutton
2012:
Establishes himself as first-choice keeper and scores first hundred in a 261-run partnership with Wayne Madsen, only 23 runs short of breaking the world record for the ninth wicket that had stood for 102 years
2013:
Full season as first-choice Derbyshire wicketkeeper
2014:
Misses entire season following ankle surgery
2015:
Awarded new contract at Derbyshire
Now he is determined to use his experiences to help other young players prepare themselves for the future.
"Cricket is a chapter of your life," he says. "Unless you're at the top end it doesn't pay like football and there are only a small percentage of people who go on to play at the top level.
"The suicide rates, gambling and substance abuse post-cricket for the majority of ex-players are horrific.
"It's difficult to get that perspective. For me it hit me in the face and dropped right on my doorstep. On 3 April, everything was hunky-dory. On 4 April, I had lost my father and had a career-threatening, potentially life-threatening, injury.
"The margins are that small. You feel immortal and invincible at a young age. But it's frightening just how fragile things can be and the earlier you can stimulate that learning the easier it is."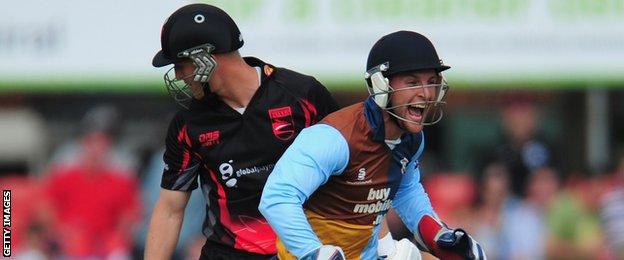 For all his maturity and pragmatism, Poynton knows that his return to cricket is unlikely to be entirely smooth.
He adds that when someone says something that touches him, or when one of his dad's favourite songs comes on the radio, he can still find himself "sidelined with emotion".
"I'm not bothered about letting that emotion out whatever the circumstances," he says.
Earlier this month, precisely a year on from the accident, Poynton found himself out on the field competing in a pre-season match.
A challenging moment, doubtless, but also a fitting symbol of renewal for a young man determined not to allow the scarring events of 12 months ago to be a permanent impediment to achievement.
"That's where my dad would have wanted me to be, out there enjoying myself," says Poynton, who signed a new contract on 10 April that will keep him at Derbyshire until the end of the 2016 season.
"The first anniversary is significant, but I have remembrances and have to deal with it every day of my life so it's just another day to get through.
"I went back to my mother and family in the evening and we celebrated in the way that he would have done with some good food and some good wine. That's all you can do."