Peter Moores 'excited' by emerging England Test team
Last updated on .From the section Cricket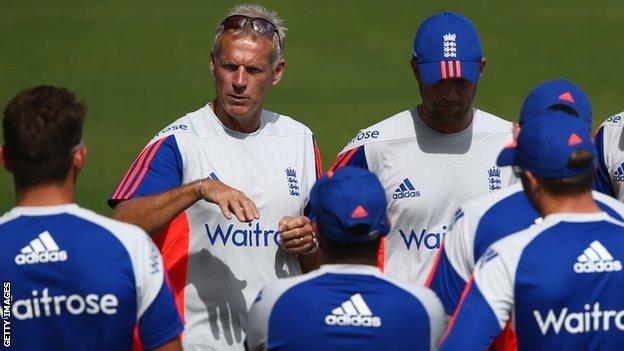 Head coach Peter Moores says he is "very excited" by the talent within the England Test team.
James Anderson, 32, took six wickets while Joe Root, 24, starred with an unbeaten 182 in the first innings.
"We've got an emerging Test match team which is very exciting because of the mix of senior players and young players coming through," said Moores.
"We came here with a clear goal to win the series.
"We've been working hard and seen these players emerge. To get some reward for all the hard work they have put in is great."
Ex-England batsman Geoffrey Boycott on Test Match Special
"Some of these players played in the World Cup and got panned for their performances. They know they are the better Test side, but it still hurts you if you play badly. Whether it's one-day cricket or Tests, you're an England player and England cricket is under the cosh. There's that relief and hopefully they can go to Barbados on top of the world and, in the nicest sporting way, crush the West Indies."
Victory in Grenada earned England a first Test win overseas since 2012 and came off the back of a disastrous World Cup campaign.
When asked to explain the difference between his team's one-day international failures and their improving Test form, Moores said: "Our one-day cricket has been in a backwater for a while.
"The rest of the world have moved. People have talked about that and I think they're right.
"This winter we didn't play well enough. But it's great to see us get back to Test match cricket and start to play well and build on that with a lot of Test match cricket coming."
Moores was criticised for being too conservative in his selection of England's bowling attack for the second Test.
Yorkshire spinner Adil Rashid has been mooted as a possible addition for the next match in Barbados, and Moores said: "Adil Rashid is someone we'd love to see develop quickly as a player.
"He has done really well. Over the last three weeks he has worked extremely hard in the nets, he's bowling well and we just have to see where we are in Barbados."