Alastair Cook: 'Untouchable' England captain angers Boycott
Last updated on .From the section Cricket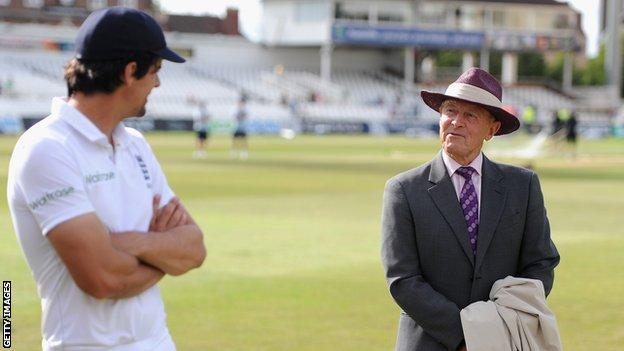 England captain Alastair Cook believes he is "untouchable", according to former Test skipper Geoffrey Boycott.
Boycott was angered by Cook's comments about incoming England and Wales Cricket Board chief Colin Graves after the 1-1 series draw in West Indies.
Cook criticised Graves for calling the West Indies "mediocre" before the tour, adding: "That's a Yorkshireman for you - they're happy to talk a good game."
Boycott said: "Every time Cook opens his mouth, he sticks his foot in it."
The 74-year-old, writing in the Daily Telegraph, continued: "We lose a Test and fail to win a series, and he blames Colin Graves. He is going to be his new boss on 15 May, yet it is unbelievable that Cook talks disrespectfully about him.
"Cook acts as if he is the best captain England have ever had. He is living in cloud-cuckoo land about his captaincy ability. He thinks he is untouchable."
Test Match Special pundit Boycott, like Graves a Yorkshireman, was also critical of the ECB's reported intention to appoint former captain Andrew Strauss, who opened the batting with Cook during his international playing career, as its new director of cricket.
"If that is the best that Tom Harrison, the chief executive, can come up with, God help us," added Boycott. "Why? Because Cook calls him 'Straussy', they opened the innings together for a long time, are best mates, shared dressing rooms.
"So Cook will be safe and captain forever, as will some other players Strauss played alongside. He is too close to so many of the current players to take an objective view."
Another former England captain, Michael Vaughan, has ruled himself out of the running for the ECB's director of cricket role.
"After really good talks with Tom, and gaining an understanding about the role, I felt this was not the right time for me to move into such a position," the 2005 Ashes-winning skipper told the Daily Telegraph.
"It will be a position of huge importance to the development of English cricket over the long term but during our talks the limitations of the role became clear to me."