Ashley Giles: Lancashire coach accuses England of 'short-termism'
Last updated on .From the section Cricket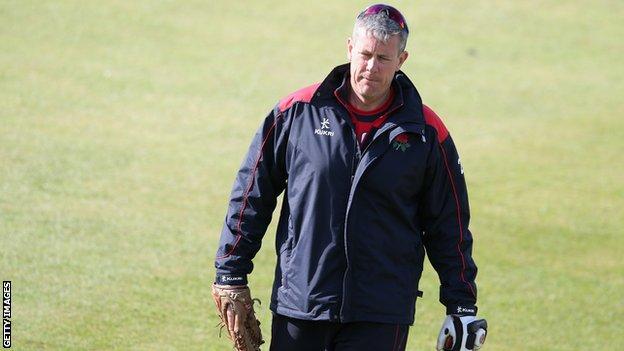 Lancashire director of cricket Ashley Giles has accused the England and Wales Cricket Board of 'short-termism' after the sacking of coach Peter Moores.
Giles was removed as England limited-overs coach in April 2014 after less than 17 months in the role.
"One of the biggest problems is that we can't see past tomorrow at the moment," he told BBC Radio Lancashire.
"Whether you're a coach, whether you're a selector or whether you're a player, you don't know whether you're going to be here next week.
"If we're serious about winning in 2019 - winning the Ashes and winning the World Cup here - I know there's a lot to happen before then, but you've got to have a long-term strategy.
"We can't keep this short-termist view because it's not healthy."
Magic moment
Although Ashley Giles was picked for 54 Tests primarily because of his left-arm spin bowling, arguably his finest hour came as a batsman, when he
hit the winning runs in the fourth Ashes Test of 2005
at Trent Bridge, which gave England a 2-1 lead in the series.
Moores was fired immediately following the appointment of Andrew Strauss as the ECB's national director of cricket.
But Giles, who played alongside Strauss between 2004 and 2006, feels the former England captain was a sensible choice for the new position.
"It's a big ask in the modern world of Twitter, Facebook, the media and the internet, but to develop anything longstanding, worthwhile and sustainable you've got to be given time.
"Whatever happens I hope there is some stability put in place, and Andrew Strauss certainly will give some of that," he said.
"I think he's a high-quality bloke with a lot of experience as a captain and as a player, and he's just got the right things about him.
"He's a very strong character who understands people and how cricket works, so I expect he'll do very well in the role."