Kevin Pietersen anger at 'deceitful' England
Last updated on .From the section Cricket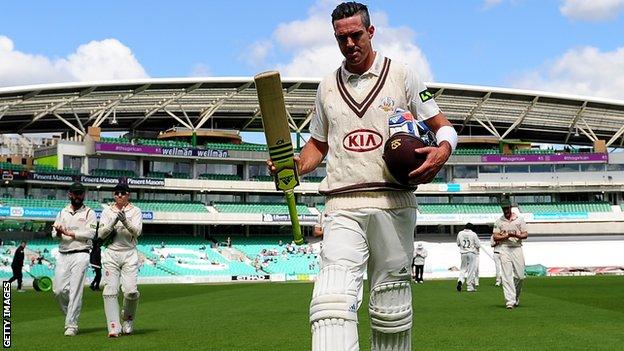 Kevin Pietersen says he is "angry and hurt" at being told he will not be considered for selection by England.
The batsman was given hope of a recall by incoming England and Wales Cricket Board chairman Colin Graves, but has been told by new director of cricket Andrew Strauss he is not required.
"I just find it incredibly deceitful what has happened to me," Pietersen wrote in the Telegraph.
"I am angry and hurt but right now there is nothing I can do about it."
In a wide-ranging column, Pietersen said:
He agreed to meet with Strauss and ECB chief executive Tom Harrison because he was told they would "work together".

He feels "misled" by the ECB.

It is a "disgrace" if Strauss has been "given permission to lose this summer's Ashes".

That Strauss could not name players who do not trust him.

He will travel to play in the Indian Premier League on Friday and is yet to make a decision on his future.

Pietersen was told his international career was over in February 2014, only for Graves to suggest the 34-year-old could add to his 104 England caps if he joined a county and scored enough runs to merit a recall.
As a result, the right-hander pulled out of a deal with IPL team Sunrisers Hyderabad and signed for Surrey.
He made 355 not out against Leicestershire but Strauss said he will not be selected this summer because "trust has eroded" between Pietersen and the ECB.
"I have done everything I can," added Pietersen, who made his Test debut in 2005. "Was I lied to by the chairman? Only he can answer that. Tom Harrison and Andrew Strauss have said today that all three of them are united in this decision, so I don't know what to think.
"What has happened since Colin told me if I scored county runs I would be available for selection?"
BBC cricket correspondent Jonathan Agnew
"He feels like he's been misled and we've all got sympathy for him. That's exactly the sort of column I thought he'd write. He's obviously very angry."
Pietersen's meeting with Strauss and Harrison was arranged before he made his highest first-class score and the biggest individual score in the County Championship since 1994.
"I expressed my fear to Tom last week when he asked for the meeting that I did not want to sit in a room and be told that I was not going to be picked for England again," added Pietersen.
"Tom said: 'No, no, no you have had one of England's greatest careers and we need to work together.' So, of course, I agreed to the meeting."
Explaining the decision not to consider Pietersen for selection, Strauss said: "Over months and years, trust has eroded between Kevin Pietersen and the ECB."
But Pietersen, who played 46 Test matches under Strauss's leadership, claimed his former captain could not name players who mistrust him.
"I asked: "Who doesn't trust me?" said Pietersen. "You have a new chairman, a new CEO, we have spent the last 10 minutes sorting out our differences like adults. Let's go through the batting order.
"I rattled off names. He could not give me any names. He said it is a broader thing and not just the players."
It has been reported that Strauss will not be sacked if England lose both this summer's Ashes series and on the return trip to Australia in 2017-18.
"It is an absolute disgrace if that is their mindset," said Pietersen. "Is this the reason Strauss got that job, because he would accept those conditions? Michael Vaughan and Alec Stewart certainly would not."
'Pietersen can be an absolute idiot, but England need him'
Speaking on Radio 5 live, former England captain Michael Vaughan said: "It is difficult clearly for Kevin Pietersen to be in the same dressing room with Alastair Cook, that is so obvious from all this today. It's very clear that Alastair Cook can't play in a team with Kevin Pietersen.
"What I'm disappointed about is that Kevin Pietersen now is going to be lost to English cricket, gone, probably won't play again.
"Personally I'd like to see him go in to the Test side if there's a big injury, but I would have loved to have said to him, 'You're an expert in T20 cricket'. Our one-day cricket is atrocious.
"There's a World Cup in 10 months time. A World Cup. Are we going to arrive at another World Cup with a load of young kids? Kevin could have been that gel.
"He's got so much to offer. Yes, at times, he can be an idiot. An absolute idiot. But he's got a lot to offer that England one-day cricket needs."