Jason Gillespie: 'No England approach for Yorkshire coach'
Last updated on .From the section Cricket
England have not made an approach to appoint Yorkshire coach Jason Gillespie as Peter Moores' successor, insists the county's chief Martyn Moxon.
"At the moment it is purely what Andrew said and nothing more," said Moxon, 55. "It is all speculation."
But he admits Gillespie, 40, will take an international job in the future.
"As far as an international coaching career is concerned, it will be when rather than if," said Moxon.
"Jason is a very talented coach, he has got fantastic playing experience, he has a great rapport with the lads and is a great communicator."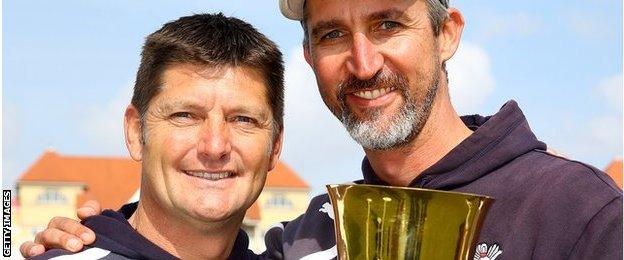 Gillespie was appointed by Yorkshire in 2011 and led the county from Division Two to the County Championship title within three years.
Strauss confirmed the Australian is "one of the candidates" to replace Moores and said he wants someone in place in time for the Ashes, which begin in July.
Moores, 52, was relieved of his duties following a dismal World Cup and the drawn Test series with West Indies.
However, Gillespie's former Australia team-mate Matthew Hayden says anyone applying for the job would be "crazy".
Moores' successor will not be allowed to pick Kevin Pietersen because of what Strauss described as "massive trust issues" with the ECB.
And former England opener Moxon believes Gillespie - or any other potential head coach - would need clarification of what exactly their, and Strauss's, responsibilities entailed.
"If talks happen they would have to get clear roles defined of what the England head coach's role is now - it is a bit murky from my point of view," said Moxon, who played 10 Tests for England between 1986 and 1989.
"There needs to be clarity of where Andrew Strauss's responsibilities begin and end, and where the coach's begin and end."
Ex-Australia coach Arthur expresses interest
Former South Africa and Australia coach Mickey Arthur admits he would be interested in talking to the ECB about replacing Moores.
Arthur, 46, was sacked by Australia 16 days before the 2013 Ashes series against England and has not held a major coaching position since.
"I'd certainly have a conversation around it," he told BBC Radio 5 live. "It's a wonderful opportunity.
"I don't understand what Matthew Hayden is saying. It is the perfect time for someone to make their mark in coaching and take a team from where England are and take them forward in a good way.
"The team's looking for leadership, the team's looking for direction, the team's looking for stability. Any person who can do that right now for England will have a real good chance of success."