Pakistan v Zimbabwe: Series will go ahead, says PCB
Last updated on .From the section Cricket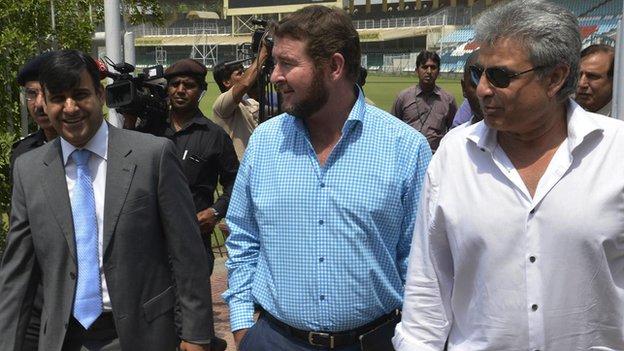 Zimbabwe's tour of Pakistan is to go ahead, Pakistan cricket officials say.
On Thursday, Zimbabwe said discussions were "ongoing" after retracting an earlier announcement that they had pulled out of the tour.
No top-level international cricket has been played in Pakistan since Sri Lanka's team bus was attacked in 2009.
Pakistan Cricket Board chairman Shaharyar Khan said: "Zimbabwe Cricket has decided to stick to its plans of sending their team to Pakistan."
Khan said he was told of the move on Friday: "After the last evening's unsettling news that Zimbabwe Cricket had 'postponed' its visit to Pakistan, I received a call from my Zimbabwean counterpart William Manase and he most kindly informed me that his board was still willing and ready to send their team to Pakistan."
Khan added "the best possible security" will be provided to the visiting team.
Two Twenty20 internationals and three one-day internationals are scheduled in Lahore from 22-31 May and tickets will now go on sale from Saturday.
Governing body Zimbabwe Cricket created confusion on Thursday by issuing a press release announcing the tour had been "suspended" because of security concerns, then retracting this in another announcement 15 minutes later.
Recent militant violence in Pakistan had revived security fears, six years after gunmen attacked Sri Lanka's bus on the way to a Test match in Lahore.
Six Pakistani policemen and two civilians, including the driver of a minibus containing the game's umpires, were killed that day, while several Sri Lanka players sustained minor injuries.
Since then, Pakistan have played most of their "home" matches in the United Arab Emirates, while New Zealand and England have also hosted Pakistan "home" games.
Although Afghanistan (in 2013) and Kenya (in 2014) have both toured the country and played against Pakistan A, proposed tours by Bangladesh in 2012 and Ireland in 2014 were cancelled on security grounds.