Stuart Broad apologises to ECB over missed sponsor function
Last updated on .From the section Cricket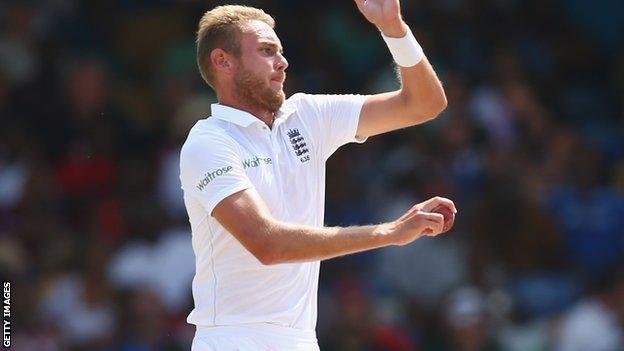 Stuart Broad has apologised to the England and Wales Cricket Board for missing a sponsor's event after a reported drinking session with former England wicketkeeper Matt Prior.
The Daily Mail reports Broad returned to his hotel at 07:00 BST on Thursday and was unable to attend the 09:30 event to launch the New Zealand series.
"I woke up with a migraine," he said.
"I wasn't on England duty for the ECB. But I did apologise for putting them in that position."
The 28-year-old added: "It was probably not as bad as it was portrayed."
Batsman Ian Bell deputised for his team-mate at England Test sponsor Investec's event on Thursday.
"After the week they've had with Andrew Strauss and Kevin Pietersen, it was probably not what they needed," Broad said.
Ex-England skipper Strauss, newly installed as the ECB's director of cricket, said on Tuesday that batsman Pietersen, sacked by England in February 2014, would not be recalled this summer because of a "massive trust issue".
Nottinghamshire pace bowler Broad added he had not discussed Pietersen's omission with his team-mates and backed the management's stance on the issue.
"I've genuinely not spoken to anyone above me or to anyone in the team about Kevin," he said. "As a player underneath Strauss you have to back the selectors and Strauss for making the decision.
"Only time can tell if that was the right decision. If we lose the Ashes, there will be a lot of pressure. We can only wait and see."
The first test against New Zealand at Lord's starts on Thursday. Click here for full details of the tour.