England v New Zealand: Hosts battle to slay ghosts at Lord's

By Tom Fordyce
Chief sports writer
Last updated on .From the section Cricket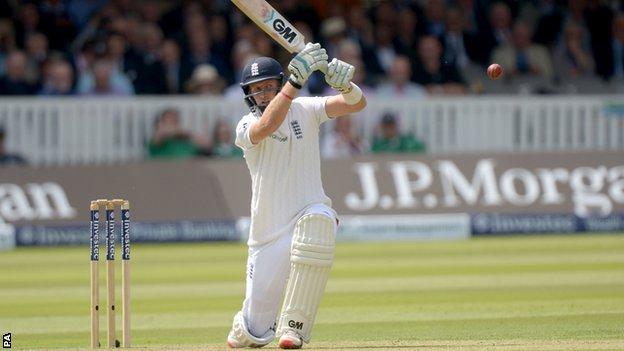 Lord's does anger in the most understated of ways - a murmur of disapproval, a slight rustling of newspaper pages, an almost imperceptible swishing as heads are shaken.
Which is just as well when England have lost three wickets for five runs and a supposed fresh start is looking awfully like the ropey old finish.
The first day of the first Test of the English summer is a time of hope. Blue skies. Green outfield. Clean slates. When it finally arrives at Lord's it should be possible to imagine that little is wrong in the world; within an hour of lunch there are enough champagne corks on the outfield to float an emergency life-raft.
But the ghosts of absent superstar batsmen and decapitated generals lurk in the shadows. This is an England team with a stand-in coach, a skipper under intense pressure and a recent record which suggests that a life-raft might come in rather handy.
Lord's is a strange stage for a botched revolution. What looks like blood on the floor of the Long Room is more likely to be spilled claret.
The signs are there all the same: headlines dominated by the search for a third coach in 15 months; a sixth opening partner for Alastair Cook since the retirement of the old stalwart Andrew Strauss; fearful whispers about what an Australian side who won the last Ashes in a cock-a-hoop canter might do when they arrive next month to resume hostilities.

Even the Test cap number handed out to debutant Adam Lyth spoke of hellish trouble. If it is not unsettling enough to face the first ball of the match in your first Test, at the ground that considers itself the home of the game, then imagine being handed a hat with '666' embroidered along the side.
And it was a beastly start. With barely an hour gone, England had slumped to 30-4, a combination of full, fast bowling and a little greenish tinge in the pitch accounting for Lyth, Cook, Gary Ballance and Ian Bell.
Destroyer in chief was another Test debutant, Matt Henry, whose first spell at this level saw him take 2-19 off five overs - not the first time the words Hooray and Henry have been heard together in St John's Wood, but the sort of impact that can determine the course of a Test.
Meanwhile, in a hospitality suite at Wentworth golf course, the man who is England's highest run-scorer in international cricket and who last week hit a triple century was drinking coffee and studying Rory McIlroy's putting stroke. We know because he tweeted it.
Such is the way of Kevin Pietersen: the biggest story when he is around, the biggest story when he is not.
As Strauss toured the television and radio studios in his new role as England's director of cricket, talking about his search for the side's next permanent coach, you could imagine candidates quietly losing their mobiles and taking off for spontaneous overseas holidays.
Except then, at the sort of pace that England have not managed for many long years, the game began to turn.
The first 50 runs had taken 99 balls. The second 50, Joe Root and Ben Stokes in bellicose partnership, came at a run a ball. The third took just 72 deliveries.
England's unlucky duo
Both Joe Root and Ben Stokes were dismissed in the 90s - the first time this has ever happened to the number five and six batsmen in a Test innings.
It was no accident. Stokes had been bumped up the order to six, Moeen Ali nudged down to eight. In similar pickles over recent years, England batsmen have been sent out with instructions to dig in. This time they hit out.
New Zealand's attack were partly culpable. Pressure bowling was replaced by the profligate.
Yet the change in emphasis was unavoidable. In a stand of 161, Root and Stokes first calmed the capacity crowd's fears and then put a smile on their faces.
Both fell in disappointing fashion with centuries a few blows away - Stokes in playing no shot to the arm ball of spinner Mark Craig, Root in bottom-edging a slashing cut to give Henry his third wicket.
Yet there was no rancour, no sense of an opportunity lost. Stokes' 92 had come off 94 balls, with 15 fours and a six. Root's 98 contained 11 fours. In place of the fear that has seemed to dominate English thinking over the winter, it was celebratory stuff.

You could argue that it simply put England back where they should have been on a track that contained few scares once the heat had burned away the early moisture.
To close the opening day of a home Test on 354-7 is not to have washed away the memories of this winter's World Cup humiliations down under or the tame tumble to defeat in Barbados less than three weeks ago.
It does not solve the most critical of the team's problems - finding a durable opening pair, blending an attack that can take 20 wickets, unearthing a spinner who can both attack and defend.
It does not mean that a New Zealand side made up of batsmen who play destructive cricket by instinct as much as intent will not more than match those scoring rates on a more benevolent pitch yet on Friday, and it does not suddenly make Michael Clarke's team anything less than favourites to retain the Ashes come late August.
But as the aesthetic aggression continued in the tea-time shadows through Jos Buttler and Moeen, their 103-run partnership only ended by the final ball of the day, it was a reminder of other simple truths: that cricket is about entertainment as well as endless rancour, that on-field partnerships are more alluring than off-field civil wars.
And even, impossible though it may seem at the moment, that one day an England innings might pass without anyone mentioning you-know-who.