T20 Blast: Glamorgan hope Wayne Parnell will face Hampshire
Last updated on .From the section Cricket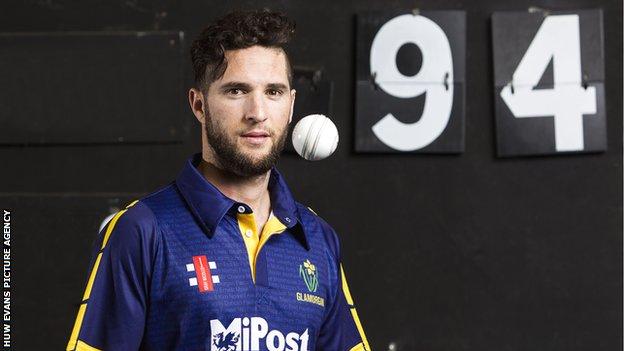 Glamorgan coach Toby Radford is hopeful that bowler Wayne Parnell will be fit for the T20 Blast game at home to Hampshire on Friday, 29 May.
Batsman Ben Wright also missed the loss to Essex and could be back next week.
"We'd love Parnell in there, he gives us that extra bit of zip, pace with the bowling," Radford said.
"Obviously Hogan's our quickest bowler at the moment but we'd love to get Parny fit for that.
"Ben Wright was missed in the batting line-up so I hope he's back as well.
"Get a few of these injuries sorted and I think that'll help us."
Glamorgan had looked set to post a competitive total against Essex at 64-1, but a flurry of wickets saw the Welsh county reduced to 83-6.
"They bowled well and we just found batting difficult," Radford said.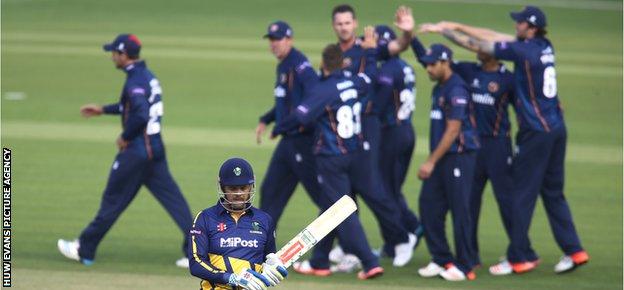 "At one point we were 64-1 and within the space of four or five overs we're suddenly 80-6 and it's very hard from there to come back and post a big score.
"To get to where we got to - 144 - I thought Chris Cooke played very well and a couple of guys around him, but you're always sort of chasing your tail.
"We want to be posting 170, 180 to be really competitive against an Essex side that bats so low down the order.
"We come back in a week's time against Hampshire, we want to put on a better performance and we want to get a win.
"We've played two, won one lost one, the first game we've lost this season so that's a bit disappointing for us, but we'll come back I'm sure with a bang next week.
"T20 is like that, you win some you lose some. As long as you learn from it... I don't get too down about anything, you just prepare and work hard for next week.
"Hampshire are a good side, there's no easy hiding place in this group there's some really good teams.
"So we've got to be up for every game and give our best."