Weekend cricket results
Last updated on .From the section Cricket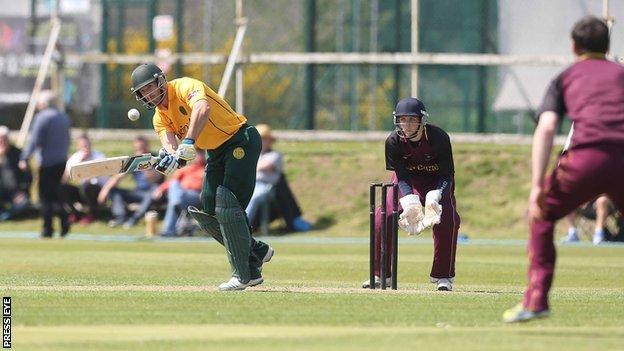 Saturday 23 May
Irish Senior Cup - ties previously postponed.
Malahide v Instonians
Malahide 246-9 F Page 60
Instonians 167
Malahide won by 79 runs
Strabane v Railway Union
Railway Union 131 Extras 49
Strabane 132-3 P Gillespie 132-3
Strabane won by seven wickets
Merrion v CIYMS
Merrion 271 T Kane 72
CIYMS 258
Merrion won by 13 runs
Fox Lodge v Co Galway
Fox Lodge 210
Co Galway 211-3
Co Galway won by seven wickets
O'Neill's Ulster Cup
Lisburn v Donemana
Donemana 189-8 R L Dougherty 52
Lisburn 62
Donemana won by 127 runs
Eglinton v Muckamore
Eglinton 88
Muckamore 65
Eglinton won by 23 runs
St Johnston v Carrickfergus
St Johnston 137 J Ting 4-38
Carrickfergus 96-3 after 25.5 overs
Rain stopped play - Carrickfergus won under D/Lewis
CSNI v Ardmore
CSNI 171-9 M Amjad 56, A Cowden 43
Ardmore
North Down v Bready
North Down 249-4 P Malan 103 no, P Shields 52 no
Bready 190 B Moreland 2-27
North Down won by 59 runs
Sunday 24 May
Inter-Provincial
Northern Knights v North-West Warriors
North-West Warriors 272 (S Thompson 112, S Campbell 76; P Eaglestone 4-64)
Northern Knights 18-2
A day of mixed fortunes for the North-West Warriors, but by the close of play in the three day Inter-Pro against the Northern Knights at Downpatrick they had regained the upper hand. The visitors lost their first three wickets for only 52, but Scott Campbell and Stuart Thompson came to the rescue with a fourth wicket partnership of 148. With the score on 238-4 they were expected to build on the solid position but lost their final six batsmen for only 34 runs.
In reply the Knights struggled in the final 7.5 overs of the day and were on 18 for two at the close.