Ben Stokes: Have England found a new cricket hero?
Last updated on .From the section Cricket263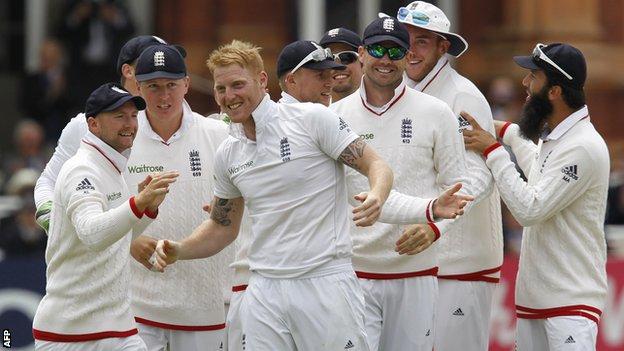 Durham all-rounder Ben Stokes rose to prominence with a man-of-the-match performance as England beat New Zealand in the first Test at Lord's on Monday.
In only his 10th Test, the 23-year-old hit an 85-ball century - the fastest ton in a Lord's Test - before falling for a swashbuckling 101 from 92 balls, with 15 fours and three sixes.
He also took three wickets in the second innings with his attacking seam bowling as England won by 124 runs.
With the Ashes series starting on 8 July, have England found a new hero?
Why's he being talked about?
England followers love a big-hitting match-winner. From Botham to Flintoff and Pietersen, interest grows significantly when these kind of players are in the side.
A genuine all-rounder is also vital to the England hierarchy, offering more options to the selectors and helping the balance of the side if they are confident they have a batsman and bowler rolled into one.
England captain Alastair Cook said the 101 made by Stokes was "one of the best innings I've seen" but added that New Zealand-born Stokes also had a commendable work ethic.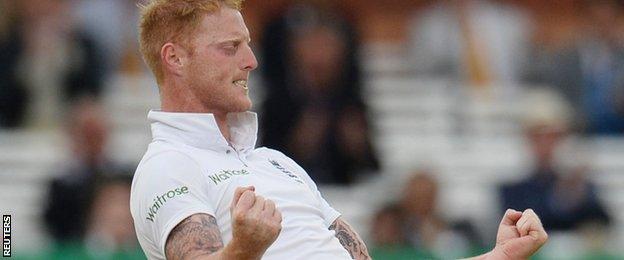 "We have always known how talented Ben is, but you need to work hard and if anyone goes to the nets they will see the first guy hitting the ball, half-an-hour before anyone else, is Stokesy," he said.
Ironically he was left out of the England World Cup squad last year after a modest run of form in which he scored 89 runs in nine one-day international innings. Without him, the squad did not fare well, losing to Bangladesh and failing to progress beyond the opening group stages.
What's his background?
Stokes is one of a number of England players born outside the United Kingdom, and coincidentally grew up in New Zealand. The son of rugby league player and coach Ged Stokes, he moved to England aged 12 when his father was appointed coach of Workington.
Making his debut for Durham aged 17 in 2009, Stokes dismissed the prolific Mark Ramprakash, now the England batting coach, with his third legal delivery in senior cricket.
Having scored a hundred against India in the Under-19 World Cup in 2010, Stokes made his one-day international debut in 2011 and his Test debut on the Ashes tour of 2013-14, when he scored 120 in only his second appearance.
There have also been moments of controversy. In 2013, he and Matt Coles were sent home from the England Lions tour of Australia for disciplinary reasons, while he missed the 2014 World Twenty20 with a hand injury suffered when he punched a dressing room locker in the West Indies after being dismissed first ball.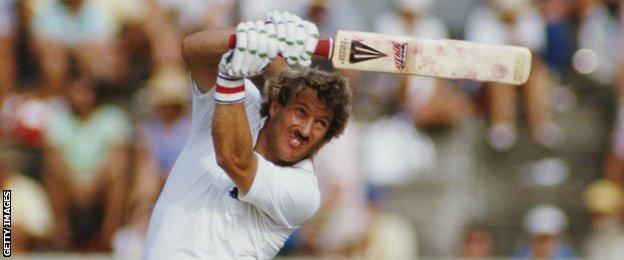 Is he the new Ian Botham?
Botham was worth his place in the team as either a batsman or a bowler. He made 14 Test centuries and, until recently deposed by James Anderson, was England's leading Test wicket-taker, with 383 scalps in his 102 matches, taking five wickets in an innings 27 times.
A more favourable comparison at this stage for Stokes would perhaps be Andrew Flintoff, who was the cult hero of the memorable 2005 Ashes series, taking 24 wickets and hitting a century and three fifties.
Flintoff's overall record was more modest, averaging 31 with the bat from his 79 Tests with five centuries while taking 226 wickets at an average of 32.
Michael Vaughan, who captained England to victory in that 2005 Ashes, told BBC Radio 5 live: "People will say we shouldn't talk in terms of Flintoff and Botham but we've got a cricketer here who is completely natural. English cricket has got to promote him and that style of cricket.
"He'll have his off days but I think he's going to have a lot of the moments we've seen over the last few days because he's got raw talent.
"English cricket needs that kind of player that all kids try and emulate, that style that people can relate to, they think 'yes, he's one of us,' who just has that mentality to take the opposition on."
Stand-in England coach Paul Farbrace said: "It's not always going to be 90 and 100 in the same game, and wickets, but he gives so much to the team with his energy. He's someone you want on your team. He gets in the face of the opposition, he plays tough, hard cricket but he's so talented."

Previous false dawns
Since Botham's final Test in 1992 England have been searching for his successor. Chris Lewis and Dominic Cork were among those labelled as the "new Botham" and Flintoff overcame the pressure of that tag as his star shone brightly during an 11-year Test career.
Vaughan is convinced that Stokes has the ability and he said: "He's going to win England matches on a regular basis. He reminds me so much of the great all-rounders, they've got that presence, they make things happen.
"He's got that wow factor, that buzz, when Ben Stokes is in the game no-one is going to go, people are going to make sure they are watching."
Botham and Flintoff were arguably two of the greatest characters to play for England with their buccaneering, exuberant styles. Stokes has a lot to live up to, but with his tattooed arms, combative approach and, above all, impressive displays, he is already carving a name for himself.
Farbrace added: "The more experience we give Ben, the more he's involved in the game and a centrepiece player, the more we get out of him.
"He wants to be at the centre of the game. He's all-action and exciting. The more we get him involved and give him responsibility, the more he will respond to that."
And Stokes senior, his father Ged, said: "He had a natural talent for the game ever since he picked his first plastic bat up, he could straight drive when he still had nappies on. I used to play with him in the hallway and he wouldn't hit the wall - he would drive it straight past me.
"He's got a talent, but he's a nice lad, and his contribution to the team is more important to him than personal stats."
Listen to more reaction from Ged Stokes and others on the Tuffers and Vaughan Cricket Show's podcast

What are people saying?
Scyld Berry, Daily Telegraph: "Around such a talismanic all-rounder as Stokes an excellent Test team can be built."
Stephen Brenkley, Independent: "The crowd loved him and he loved them back. Like certain all-rounders before him he knows about carpe diem all right.
Vic Marks, Guardian: "Stokes was unfettered and dangerous. Just do not expect too much consistency. That can't be part of the current deal. Be grateful, not greedy."
Paul Newman, Daily Mail: "This will be forever known as the Test when Ben stokes announced himself as an all-rounder of rare ability and star quality."
Dean Wilson, Daily Mirror: "England's brave new era has a new hero and his name is Ben Stokes."
Former England wicketkeeper Matt Prior: "He's always going to take the positive approach, he really did turn the game round for England."
David Lloyd, ex-England batsman, now commentator: "The public know when a new talent emerges... and one with 'edge' too."
Andrew McGlashan, Cricinfo: "It was Ben Stokes who really lit up Lord's for the second afternoon running in with an electrifying over in which he removed two of New Zealand's lynchpins."
Former England football captain Gary Lineker: "Great stuff from Ben Stokes! Thrilling Test match and a great win for England. Watch out Australia!"
John Gibson from Cockermouth CC, Stokes's first club: "Ben first came here from New Zealand as a 12-year-old and played with us for five or six years. I thought he was a good player, but I think we'd have been foolish to say we thought he'd play for England - there are lots of junior players who impress. But it's incredible what he has gone on to achieve."
Broadcaster Piers Morgan: "Not hearing those England fans who brand Kevin Pietersen a 'South African' call Ben Stokes a 'Kiwi'... would love to see them bat together."