Trevor Bayliss: All you need to know about England's new coach
Last updated on .From the section Cricket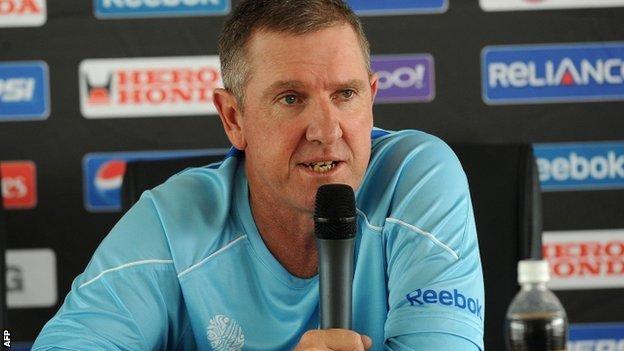 Trevor Bayliss has created his own piece of sporting history by becoming the first Australian to coach England's cricket team.
The 52-year-old comes highly recommended by those who have worked with him, but is hardly a household name in this country.
So what can England expect from Bayliss, and what has the reaction been to the appointment of a man who had a modest playing career and a link to James Bond?
Here is BBC Sport's guide to the Aussie who will lead England's attempt to wrest the Ashes back from his compatriots this summer.
So, is he any good?
Michael Vaughan certainly thinks so. The former England captain isn't surprised Bayliss was the man chosen by new England and Wales Cricket Board cricket director Andrew Strauss and chief executive Tom Harrison.
He told BBC Radio 5 live: "He has a wealth of experience in coaching, and he has got a real know-how from the white ball in terms of Twenty20 and 50-over cricket.
"In the Test format we have always been pretty good but the one-day format has been a shemozzle for a while and he is the man to try and bring a new energy and a new direction for the team.
"I haven't heard anybody say anything bad about Trevor. I don't think he is going to be in your face - he's going to be right at the back moving a few things. I believe he is a typical Aussie.
"If the players want to use the stats they can, but he's not one for using that kind of information.
"I think he is a good appointment. I'm disappointed for Yorkshire coach Jason Gillespie, I'm a good pal of his. But I do think they have made a good call by getting Bayliss.
"England came knocking for him about a year ago and they might not have come knocking again. That's probably one of the big things he thought - 'this is my time - I've got to take it'."
Australia coach Darren Lehmann is another who holds Bayliss in high regard.
He told Cricket Australia: "Trevor has been a great servant of the game in Australia and has had great success with New South Wales in both long and short format, as well as with the Sydney Sixers and Kolkata Knight Riders in T20s.
"He did a great job for us when he took the reins in the international T20s against South Africa last year, winning the series 2-1. A trademark of Trevor's teams is that they are well prepared and this just serves as another reminder to us that this Ashes will be a tough contest."
What's he like to work with?
The perfect coach, according to many who have. Mahela Jayawardene played under Bayliss during the Australian's spell as Sri Lanka coach from 2007-2011. He told BBC Radio Sussex: "He's a great guy.
"He's a very, very good coach, though when we took him he didn't have much international experience. He knew exactly how the team worked and he's a beautiful old-school guy in the sense that he stays behind the limelight and gets the job done.
"He's fantastic with the guys, especially with the younger guys - he gives them a lot of confidence.
"He'll give a lot of tactical information and other stuff to the team, but he'll allow the team to play and that's the most important thing.
"He's not too bothered about what the media are saying, the important thing for him is the team and the results.
"He'll allow them to grow - that's what he did with our group in 2009, 2010 and 2011 when we got into the World Cup final.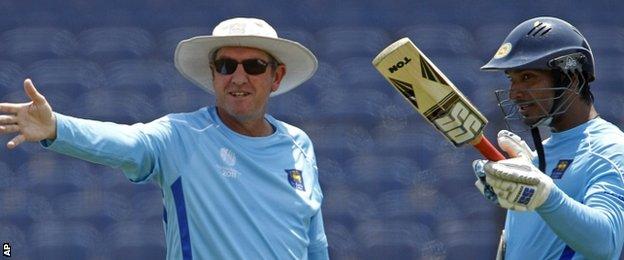 "He created a great atmosphere for youngsters to strive in that team and he gave them more responsibility as leaders in the team."
Former England one-day batsman Michael Lumb played under Bayliss for T20 side Sydney Sixers. He told BBC Radio 5 live: "I think he's the right man for the job. He's a great man, he's had a lot of success in white-ball cricket and he's someone that can take England forward in the future.
"He brings a big calmness to the group and he'll let them express themselves and play with no fear, almost like the Australian way. He'll get all the guys to enjoy the game and play positive cricket.
"Trevor Bayliss knows a lot of the New South Wales players in the Australia squad, so he'll come with a lot of homework on them as well."
What's his secret?
He's laid back, and likes a post-match pint. But don't let that fool you into thinking he's just one of the lads. He's a deep thinker on the game who allows his players to flourish under his guidance.
| Trevor Bayliss - at a glance | |
| --- | --- |
| Born: December 21, 1962, Goulburn, Australia | Big Bash coach for the Sydney Sixers |
| Led Kolkata Knight Riders to IPL success in 2012 and 2014 | Led Sri Lanka to the World Cup final in 2011 |
| Coached Kent in 2003 | Scored 3,060 runs in 58 first-class games for New South Wales |
"He's a bit old-school," said Vaughan. "He doesn't mind the odd beer at the end of the day's play and to just talk about the game."
And his man-management seems to be good. Ex-Sri Lanka captain Jayawardene, now playing for Sussex, said: "He won't put boundaries or guidelines on the players, he'll allow them to play their cricket but will make sure it's done accordingly to the team plan.
"He's not very authoritative in the sense that he'll just sit back and enjoy what the team is doing, he'll allow the captain to take all the decisions and try and help him out any way he can."
So did he have a prolific playing career?
Not really. Modest, at best. Like sacked predecessor Peter Moores, Bayliss has no experience of playing at international level, featuring only for New South Wales in a 12-year career during which he played 58 first-class games.
He averaged 35.58 in first-class cricket in Australia, scoring more than 3,000 runs with five centuries and a highest score of 163 before retiring in 1993.
He also took eight wickets as a part-time off-spinner.
| The Ashes, 2015 | |
| --- | --- |
| First Test: Cardiff, 8-12 July | Second Test: Lord's, 16-20 July |
| Third Test: Edgbaston, 29 July - 2 August | Fourth Test: Trent Bridge, 6-10 August |
| Fifth Test: The Oval, 20-24 August | Australia beat England 5-0 in the 2013-14 Ashes |
The Aussies won't like it, will they?
Maybe England should be a little worried, because most of them seem to welcome it.
Former Australia batsman Marcus North told BBC Radio 5 live: "It's a great appointment for English cricket.
"In an ideal world it would be nice to appoint an English coach for the England side, but in sport in general that's not the case now. The world is quite small and you want the right people for the job and Trevor is someone that English cricket will enjoy having. They're very lucky to get him.
"The fact that he's Australian is going to add a little bit more extra focus on it but he's already coached abroad, he coached Sri Lanka for a number of years, and also in the IPL, so he's used to doing jobs away from Australia. Knowing Trevor he'll probably enjoy the Ashes being his first series.
"He will bring England cricket a great calmness; we all know there's a lot of scrutiny and pressure that comes with playing for England."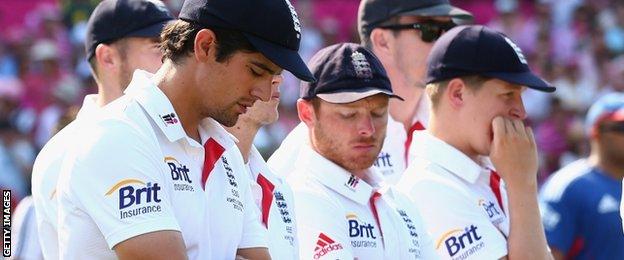 Geoff Lawson tries to make it sound as though Bayliss played hard to get.
The former Australia pace bowler, now New South Wales bowling coach, said: "I was with Trevor in Mumbai a week ago and he certainly wasn't rushing at the job. Having worked with assistant coach Paul Farbrace before, that's a big attraction for him."
Keeping cricket in perspective
Bayliss was touring Pakistan with Sri Lanka in 2009 when their bus was attacked by gunmen in Lahore.
Six Pakistani policemen and a van driver were killed, while several players and a local umpire were injured.
Bayliss emerged unscathed, while Farbrace sustained minor injuries.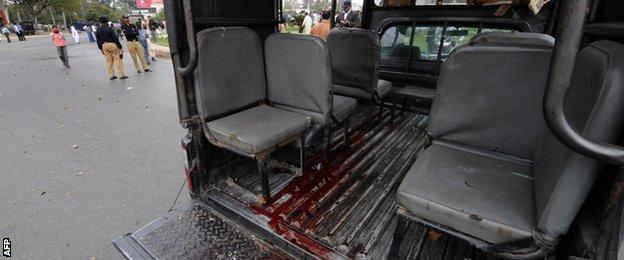 So what does Bayliss say?
That it's "an honour", even though the appointment could see him shunned back home if England regain the Ashes.
He said: "What particularly excites me about the role is the chance to work with a very talented group of players. I firmly believe the team has a bright future and I'll be doing everything I can to help them realise their potential and achieve success on a consistent basis.
"There's a great opportunity to help Test captain Alastair Cook and one-day captain Eoin Morgan shape the direction and development of their respective teams. I am also looking forward to working alongside Paul Farbrace once again as we have a similar outlook on the game, get on well after two years working together and have kept in touch."
Has anyone else had their say?
Former England batsman Kevin Pietersen thinks Bayliss is a lucky man.
Australia legend Shane Warne believes the good fortune is all England's.
What's the official line from the ECB?
Strauss said: "He has proved himself in both domestic and international cricket, has a strong reputation for man-management and has shown how to build winning teams in all three formats.
"His expertise in the shorter forms of the game will be vital as we build towards three major ICC events over the next four years: the World Twenty20 in India in 2016 and the Champions Trophy and World Cup, which will be staged in England and Wales in 2017 and 2019 respectively."
Any more info?
Bayliss has two teenage children, Adam and Emma, who live in Australia.
What's that link with 007? Will he leave the Aussies shaken or stirred?
Bayliss was born in Goulburn, New South Wales, also the birthplace of former Bond actor George Lazenby.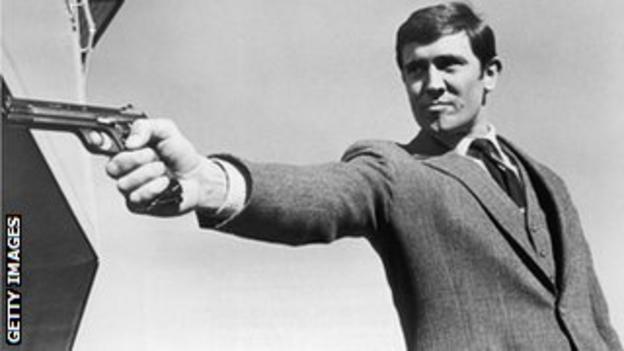 Not to be confused with
Trevor Baylis - president of Trevor Baylis Brands, and inventor of the clockwork radio.
Trevor Bayliss's coaching honours
Sri Lanka: World Cup finalists (2011), World Twenty20 finalists (2009)
New South Wales (two spells): Sheffield Shield winners (2005, 2014)
Kolkata Knight Riders: Indian Premier League winners (2012, 2014)
Sydney Sixers: Big Bash League winners (2012), Champions League T20 winners (2012)