Kent: Rob Key remains as club captain as Northeast leads side
Last updated on .From the section Cricket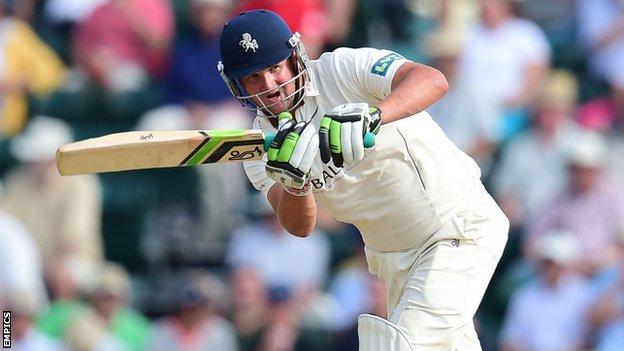 Rob Key will remain as Kent's club captain despite the batsman dropping himself from the Championship side.
Key, 36, omitted himself for matches against Glamorgan and Gloucestershire but returned against Surrey, with Sam Northeast leading the side instead.
"Rob had a bit of a slump in form and dropped himself, which is unusual," said chief executive Jamie Clifford.
"He came back but decided he wasn't going to captain, on the basis he would probably score more runs."
He added: "He duly scored what was almost a hundred against Surrey."
Clifford, speaking to BBC Radio Kent, said 25-year-old batsman Northeast was expected to continue to captain the first team.
"We are taking it as it comes," he said. "At the moment it seems to be working for both players; they are both scoring runs, Sam is enjoying the captaincy and the side is winning. It seems to be a decent formula.
"I guess we are slightly different to other sporting organisations - Rob remains the club captain."
Key spent seven years as Kent captain between 2006 and 2012 and returned to the role in 2014 after James Tredwell spent a year as skipper.
The former England batsman dropped himself from their four-day side after scoring just 86 runs in their first three Division Two matches of the season.

He returned with scores of 89 and 26 in the defeat by Surrey at Beckenham and, speaking during the match, Key told BBC Radio Kent he "had a lot less going on in his head" while batting.
"It's nice to have a break and come back feeling refreshed," he added. "I gave up the captaincy [in 2012] as it was affecting my batting.
"When I took it on again I was clear in my mind what we needed to do as a side and I feel now we are at a point where the decisions we made are starting to come to fruition.
"We have moved a long way from when I took it on again and I am proud of that, but I also want to enjoy my own batting for a bit.
"I think Sam is doing a really good job and he can do it for a fair period of time, if he is willing."