Captain Jacques Rudolph praises Glamorgan's back-to-back wins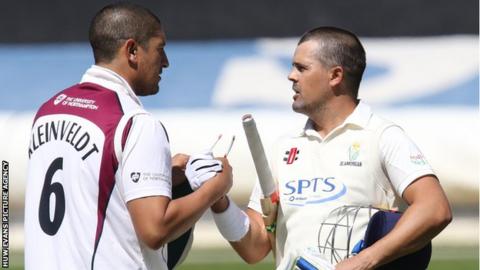 Glamorgan captain Jacques Rudolph says it is a big achievement for the county to record consecutive Championship wins for the first time in four years.
They wrapped up a 10-wicket victory over Northants despite four sessions of the game being lost to rain in Cardiff.
"My message to the team is to continue our processes, don't become arrogant and take things for granted," said Rudolph.
"There's a great confidence in this team in four-day cricket."
Northants were bowled out for 269 in their second innings as Andrew Salter took three wickets, before Rudolph and Will Bragg knocked off the 56 runs needed to win.
Despite Glamorgan's rise to third place in the Division Two table, Rudolph does not want to discuss the question of promotion.
"It's a big thing for us [to win consecutive games]. The guys have put in a lot of hard work and it's one of the most pleasing feelings," he added.
"As captain, I'm trying to change a few things and take a few more risks. I think in the second division you can afford to do that."
Rudolph says his frequent changes of bowling and fielding positions are part of his captaincy style.
"I'm pretty much an instinctive, gut-feel kind of captain and, standing at slip, I try to read what the batsmen are thinking. It's worked out well in this game."
Glamorgan face one of the sides above them in their next Championship game with the return match away to Surrey starting on Monday, 15 June.