Leicestershire: The team that forgot how to win finally wins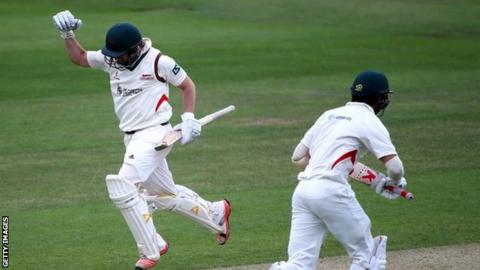 Thirty seven games and 993 days after their last County Championship victory, Leicestershire emerged triumphant in the four-day game by beating Essex on Wednesday.
The team that "forgot how to win" has finally remembered.
BBC Sport looks at what it means to the club's new hierarchy and players to end that disastrous spell.
Head coach Andrew McDonald told BBC Radio Leicester:
"Full credit to the guys, they played some really good cricket. We've had a few chances to win games throughout the year and so to get over the line is fantastic. I'm really proud of the guys.
"We stuck to our gameplan and it paid off. The boys were quite relaxed and knew what they needed to do. We were 55-0 overnight and needed 163 to win, so it was pretty relaxed.
"There were going to be moments where we lose wickets along the line, but that's cricket.
"You start out on the first day and you know you've got four days of hard work ahead of you. It's a good reward. I don't think it was relief, it was more that we won a game of cricket and we stuck to what we did and we got the result.
"We've won T20 games and one-day games as well - it's not like this side has never won a game. To put it simply, I don't think it was a relief. I think it was just that they rewarded themselves on the back of four days of hard work.
"Every game of cricket we talk about winning the game. We don't sit there and talk about losing the game. Full credit to the guys, they delivered.
"We've got a T20 game that starts on Friday and Surrey on Sunday. We want to continue to build something. There's some good talent in the changing room and the only way is up."
Chief executive Wasim Khan told BBC Radio Leicester:
"There was a lot of relief; it has been a long time coming. The guys have worked very, very hard this season and have got themselves in really good positions to win games without getting over the line. This is culmination of all that hard work.
"It means a huge amount. It gets a monkey off our backs which has been hanging around for a while.
When was Leicestershire's last County Championship win?
It came in September 2012, with the Foxes successfully chasing down a target of 236 to beat Gloucestershire by two wickets at Grace Road.
"We are very keen to acknowledge and celebrate the victory but we want to move on very quickly. We have got high aspirations for where we want to go this year. I hope the win will provide the momentum to go on to bigger and better things.
"It has been a tough couple of years for the club but it is a new era. We have an exceptional new coach in Andrew McDonald, a fine captain in Mark Cosgrove and we are creating a great culture and environment.
"It is making sure we have high aspirations and we have a culture developed on creating belief on and off the field. When I arrived, the club was very down. It has been battered and bruised for a number of years.
"We needed fresh thinking and fresh ideas, but also that we didn't accept failure. What has gone on in the past wasn't acceptable any more. Andrew and I are both winners and we are very aligned in our thinking in what we want to create."
Richard Rae, BBC Radio Leicester's Leicestershire commentator:
"It happened. Leicestershire won. And again, because it bears repeating: Leicestershire won. At the 38th time of asking.
"I was on the outfield, talking to the players for BBC Radio Leicester, after listening to the Foxes sing a song they haven't sung, in the Championship, for two-and-half years.
"It's a take on Fields of Glory, a song by a group called the High Kings - adjusted to incorporate the words 'Fields of Grace Road'. And very splendid it sounded.
"Hearing it, with one or two Leicestershire supporters in tears, was what sport is all about, really. It might just be a Division Two county game, of not great consequence to most, but it's of huge consequence to those who cared. And when the Foxes lost four wickets while adding just 30 runs, the tension was almost unbearable.
"It was heart-warming to see a Leicester-born player take them over the line in Lewis Hill, though the contributions of Angus Robson (120 and 71) and new signing Andrea Agathangelou (42) didn't half help. It was, said "Aggers", who boasts a 100% record for Leicestershire, the best feeling he'd ever had on the field."
Leicestershire opener Angus Robson told BBC Radio 5 Live:
"It's a very big day for the club that's for sure. I's been a few long years I suppose without a win and hopefully we can move forward on to bigger and better things.
"We've got a lot of new players at the club now and a new fresh feel about the place this year, so hopefully we can continue on but certainly a very excited dressing room today.
"We've been a much improved team already this season, despite not winning the opening games, we've been there or thereabouts.
"There's a good feel about the place now and I think the club's in a good place."
Leicestershire wicketkeeper Lewis Hill told BBC Sport:
"It's a great feeling for all of us because we've had some dark days in the last couple of years.
"I was a bit nervous going in after we'd lost a couple of wickets, but I tried to concentrate on my batting and Andrea (Agathangelou) was great at the other end.
"I wasn't sure at first whether that last one was going past cover, and I ended up coming back for a second (run) even though we didn't need it - I've already had some stick from the lads for that.
"We had a good sing in the dressing room but this won't be it for us now - we want to start climbing up that table, and thinking about promotion like we said before the start of the season."