Middlesex's Eoin Morgan: county schedule could become dangerous
Last updated on .From the section Cricket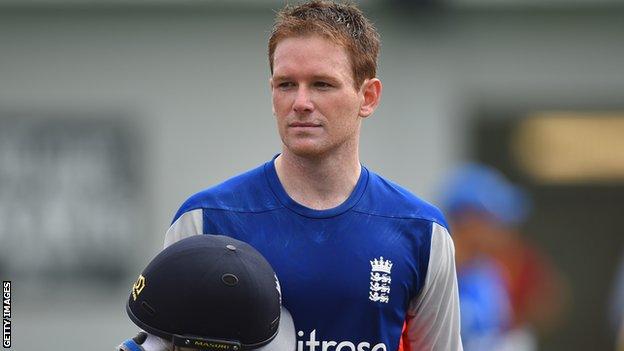 Middlesex and England one-day captain Eoin Morgan has described the current county schedule as "terrible".
Middlesex are midway through a two-week spell of Championship and T20 cricket, with just two rest days in between.
"The schedule at the moment is terrible and doesn't benefit anybody," Morgan, 28, told BBC London 94.9.
"It could get to a point, if it continues like this, where it becomes dangerous. Travelling and playing is a recipe for disaster."
After a one-week break following the Championship draw with Hampshire, the continuation of the T20 Blast competition has tested Middlesex's resources.
They had no rest in between their Division One match against Warwickshire at Lord's this week and back-to-back T20 matches away to Hampshire and Glamorgan on Thursday and Friday.
Then, after a day's rest on Saturday, Middlesex will begin a four-day match against Yorkshire at Headingley on Sunday.
"We have had a long run of cricket, particularly our bowlers," said batsman Morgan, who was appointed England one-day captain prior to this year's World Cup.
"Toby Roland-Jones bowled 50 overs in the last game against Warwickshire and Steven Finn bowled 47. To change from one format to another in no time is really, really tough."
Former England batsman Kevin Pietersen also criticised the county cricket calendar in his column in the Telegraph on Friday, saying "you can't expect players to deliver consistently when their workloads are too high".
Morgan backs a change to the schedule where the T20 Blast would be played in a block format instead of the One-Day Cup, which is predominantly played in late July and early August.
"It would benefit the players hugely," he said. "I think you would see the standard, and the consistency in the performances, elongate throughout the season.
"It would produce more entertaining cricket and a higher standard of cricket. It would benefit all the counties, English cricket and the senior team.
"We'd get to see exactly what everyone is capable of instead of chopping and changing and seeing guys go through stints of form and then out of form."