Stuart Broad: I want to contribute to England one-day future
Last updated on .From the section Cricket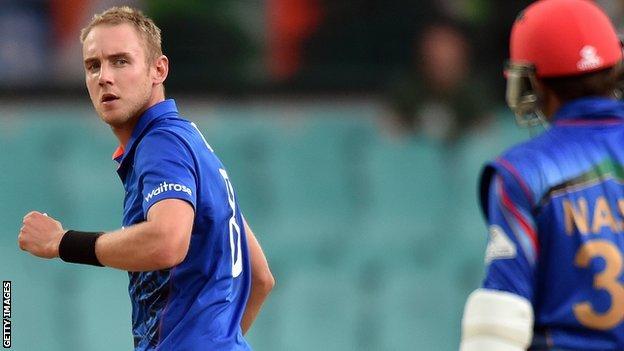 England's Stuart Broad says being left out for the forthcoming one-day series against New Zealand came as no surprise as he was already under orders this summer to concentrate on Test cricket.
The 28-year-old Nottinghamshire fast bowler also insists he has a future in international one-day cricket.
"I want to contribute to the one-day side again and certainly believe I'm good enough," he told BBC Sport.
"But I understand a need to prioritise Test cricket for England this summer."
Speaking to BBC Radio Nottingham before a rare appearance for Notts in Friday's T20 Blast defeat by his old county Leicestershire, Broad said: "The ECB explained that me and Jimmy Anderson need to get a decent amount of rest, as well as to concentrate on playing red ball cricket leading into the Ashes series.
Broad's long overdue reunion with the Foxes
Stuart Broad's T20 Blast appearance for Nottinghamshire against the Foxes at Trent Bridge on Friday night was the first time he had played against Leicestershire since leaving Grace Road at the end of the 2007 season.
Now in his eighth season with Notts, he was making only his sixth limited-overs appearance for the county of his birth. "It felt like a debut," he said.
Broad, 28, has now racked up 79 Test caps, 119 one-day internationals and 56 T20s since making his England debut, in an ODI at Cardiff, in August 2006.
"To be honest, I've been talking to them since the winter and with 16 Test matches to play this year, knowing that I would not be playing did not come as a huge shock.
"We've been pretty much non-stop since 6 January when we left for an Australian series. The body's a bit weary but you expect that after Test matches. That's why it's called Test cricket. And an Ashes series always catches the imagination.
"But there's another World Cup in England in 2019 that I feel I can offer a lot to and would like to play in. I'm not 35, I'm only 28.
"People say you're at your best, experience and skill-wise, between 28 and 32 or 33. Look at how much Jimmy Anderson has improved in the last five years."
Broad, released for county duty on Friday night alongside several of his England team-mates, was making his first one-day appearance for Nottinghamshire at Trent Bridge in four years.
"I've not played a lot because of England commitments," he said. "The calendar is quite full.
"There are not that many opportunities for England players to play a full part, but players are keen to play whenever we get the opportunity and whenever I do play, I feel integrated."