Women's Ashes memories: Clare Connor, former England captain
Last updated on .From the section Women's Cricket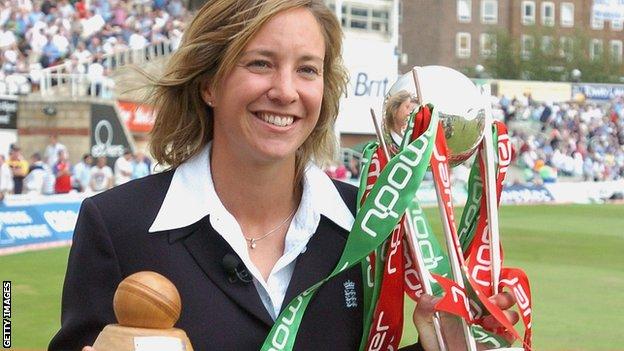 The Women's Ashes starts in six weeks, with England aiming to retain the trophy they won down under in 2014.
Each week leading up to the Ashes, an ex-England player and Ashes winner will recall their memories.
First up is Clare Connor, an ex-England captain and now director of women's cricket at the England and Wales Cricket Board.
1. Did you dream of playing for England in the Ashes and how did you feel on your Ashes debut?
I actually first dreamt of playing for England men in the Ashes as a cricket-obsessed 10-year-old watching my favourite video - "Botham's Ashes" - until I wore the tape out. At that age, all the school and club cricket I played was with boys - there wasn't another girl in sight. I probably realised this was an unlikely dream at the same time as realising that there was a route to play for England women in the Ashes when I began playing women's cricket in my mid-teens.
2. Champagne Ashes moment?
Without doubt, Arran Brindle clipping a single off her legs to secure the win at Worcester in 2005 when I was captain. In so doing we regained the Ashes after 42 years.
3. Most important innings and best spell of bowling?
I took a five-for in the second Test at Shenley (Hertfordshire) in 2001 but we lost heavily so it didn't count for much. I'd therefore say my most important Ashes bowling stint was at Hove in 2005 in the second innings. I took 4-68 from 34.5 overs - a mammoth number of overs and I bowled from one end for a full session. I just needed to tie an end down, so picking up four wickets as well as being economical was a bonus.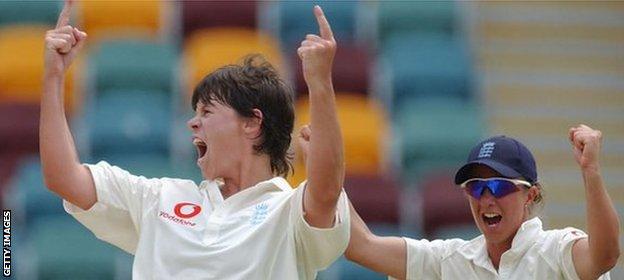 4. Best innings & bowling spell from a team-mate or opponent?
I can't split these two amazing performances from my own team-mates so I'll say Lucy Pearson's 7-51 in Sydney in 2003 and Brindle's maiden Test century to save the first Test at Hove in 2005. They were very different. Lucy's performance was a dominant one whereas Arran's century was about survival and keeping us in the game. Both were extraordinary.
5. Favourite Ashes ground and why?
It's got to be Worcester for the simple reason that we won the Ashes back there after 42 years. I can remember sitting with my family a couple of hours after the close of play looking out over the ground and just feeling unbelievably calm and happy.
6. Fiercest Ashes opponent?
Cathryn Fitzpatrick, the former Australia opening bowler. She was fearsome and had the wood over me almost every time I came up against her. She wasn't the most skilful bowler I ever faced but she was out-and-out pace and aggression and a phenomenal athlete so she could bowl long spells. She's still the fastest bowler ever to have played international women's cricket.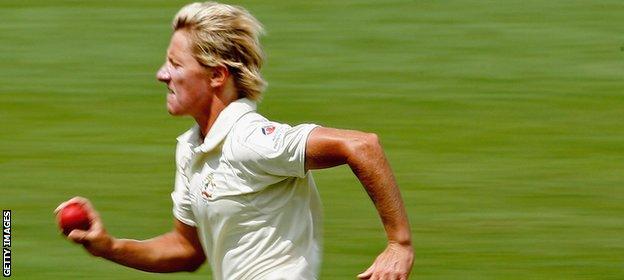 7. Most memorable Ashes match?
Again, it's got to be Worcester. It wasn't just the end of the 42 years of Ashes hurt; it also meant so much to the team psyche. From that day forward we had higher levels of self-belief when we came up against Australia compared with my own experience of playing for England from 1995-2005 and only getting on top in 2005.
It was an incredibly tough decade for England against Australia. What's most pleasing is that the players who were just getting going for England in 2005 (Katherine Brunt, Lydia Greenway etc) never knew about those years of being beaten by Australia and they never looked back.
Just four years later we won the ICC Women's World Cup in Australia and the ICC World Twenty20 in England, retained the Ashes and whitewashed Australia 4-0 in an ODI series.
8. Ashes moment you would like to forget?
Every bruise inflicted on me by Fitzpatrick - and there were lots of them.
9. Best celebration in an Ashes match?
Sorry for being repetitive, but it's Worcester again. I've never seen a team explode with so much relief and shared joy when we won there. We jumped up and down like children on the dressing room balcony and then charged on to the pitch together.
It was such an incredible feeling. For the senior players who, like me, had played for England for years and never beaten the Aussies, it was like a curse had been broken.
The celebrations continued for several hours - we wanted to stay at the ground together, absorbing those great feelings for as long as possible. We then went out for a meal and I think we were all asleep by 11pm. We were all exhausted, physically and emotionally. Without doubt, it was one of the best days of my life.
10. Who will win this summer's Women's Ashes?
Can I really give an answer to that?!