David Masters & Graham Napier extend Essex contracts
Last updated on .From the section Cricket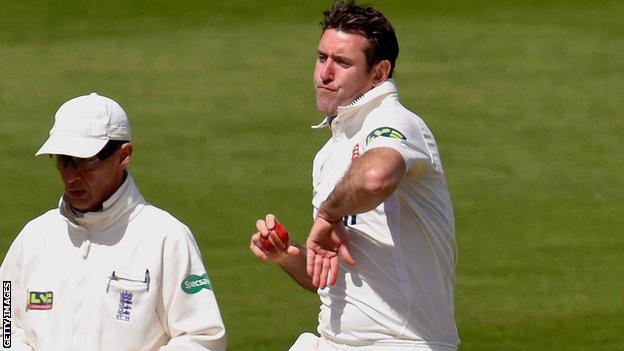 David Masters and Graham Napier have signed new one-year contracts to remain with Essex until the end of 2016.
Masters, 37, joined Essex in 2008 from Leicestershire after beginning his career with Kent and has claimed 625 first-class wickets.
Essex-born Napier, 35, has been with the club his whole career and has 816 wickets in all forms of county cricket.
"Both are top-class professionals who give their all for this club," said head coach Paul Grayson.
"They are excellent role models on and off the pitch for our young players and I am looking forward to working with the pair of them for at least another two years."
Napier, who was once on the books of Ipswich Town as a goalkeeper, made his Essex debut in 1997 and has taken 400 first-class wickets, 282 in one-day games and 134 Twenty20 wickets.
"I am delighted to have signed for another year, having spent my entire career with the club," said Napier.
"It gives me great pride every time I play for the county. I want to continue to contribute to the side and hopefully help us to success over the coming years."
Masters, who was born in Kent, left his home county for Leicestershire in 2004 before moving to Essex three years later.
He said: "I'm over the moon to be doing another year at my age. I still feel I've got plenty to offer, both on the pitch and helping the youngsters.
"I feel I'm still contributing in all formats and hopefully we can win some trophies to end my career on a high."