Jonathan Trott: Former England man eager to pass on experience
Last updated on .From the section Cricket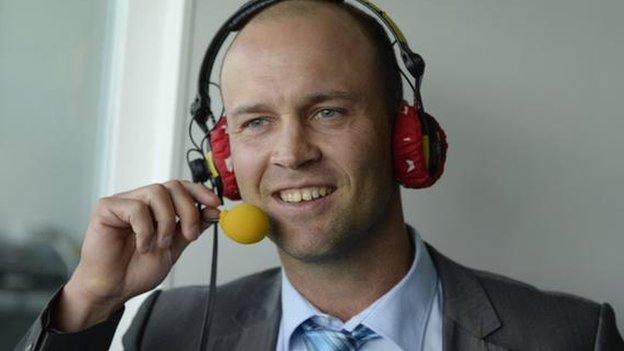 Warwickshire batsman Jonathan Trott is eager to pass on the experience of his time as an England player to the club's youngsters as he continues to rebuild his career in county cricket.
"Warwickshire is a great club to be at," he told BBC Sport. "It's a lot easier to get out of bed again.
"I see that as my role, to help the youngsters, but not get in the way of the captain and the coach."
Trott has so far performed pretty solidly for Warwickshire since returning to Edgbaston after retiring at the conclusion of the three-Test series with the West Indies in early May.
Trott averaging 28.83 in county cricket for Bears
Jonathan Trott has had six County Championship innings since returning to Bears duty following the West Indies tour, scoring 42, 6, 35, 16, 45 and 29
And he insisted that the emotional rollercoaster ride he has been on since leaving the Ashes tour early after the Brisbane Test in November 2013 has been educational.
"It's in the past," he said. "I learned from it and other people can. I've spoken to cricketers who I've played both with and against and they say they've had similar experiences.
"Generally, as guys, you just don't talk about things like that and give away a perceived weakness. But sometimes it's actually ok to say 'I'm struggling here'. With today's media and social media, there's no real escape. That's what it makes it harder.
He continued: "I've got a lot of experience working under a lot of good coaches and I've got ideas on the game that one day I'd like to pass on. But the future right now looks bright with Warwickshire and I want to be part of that part of that. We're constantly pushing for trophies, which helps you. The T20 success last year was fantastic, even if we came in a bit under the radar.
"And I only have two ambitions right now. I need to start scoring some runs for Warwickshire and I want to see England play some very good cricket this summer and win the Ashes."
Closure in the Caribbean
After almost 17 months away from Test cricket, following his exit from Brisbane, Trott called time on his international career when he made just 72 runs in six innings, including three ducks, after being pressed into service as an opener in the West Indies.
"West Indies was a bit of closure for me. I've done my time with England, I was successful for a while, and I can look back with fond memories with what we achieved as a team," he said.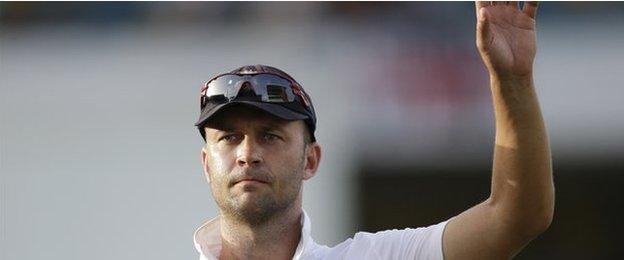 "You've got to be honest with yourself. You've got to be playing at a certain standard to represent England. Unfortunately, my game wasn't up to standard, especially as an opening batsman.
"Cricket is an unforgiving game. It would have been nice to have made a fairytale comeback. But there's no fairytales in cricket. The nearest to a fairytale for me was in my first game (when he scored a century on his debut in the final Ashes Test at The Oval in 2009).
"It was nothing to do with Brisbane or having had a break from the game. There was no hang-up from that. I'd played well for Warwickshire. It just didn't go my way. That happens in cricket."
Trott's proudest moment as a Test cricketer
For all his 3,835 Test runs, including nine centuries, in 52 matches, and 2,957 runs in limited-over cricket (68 ODIs and seven T20s) for his adopted country, Jonathan Trott says his proudest moment came in the field, at Adelaide in 2010, when he ran out Simon Katich to trigger an Australian collapse and initiate a crucial England innings victory.
"Running out Simon Katich was the highlight for me. I got to run round the field like Alan Shearer with my hands in the air.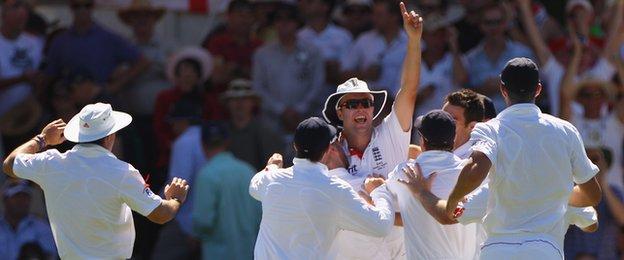 "At Warwickshire, I'd always been a slip fielder. When I got in the England side, I realised I was never going to get in there with Swann and Strauss and the hierarchy, so I got sent out to graze in the field.
"I knew I had to improve my fielding, that I had to raise my game and I spent a lot of time with our fielding coach Richard Halsall practising my fielding, catching and general speed around the outfield," he said.
"It was just one of those great moments for any team when a lot of hard work comes together in a split second.
"I think I was just half aware that Katich had been slow to respond to Shane Watson's call and I instinctively had a shy at the stumps. Then Ricky Ponting got out next ball, so I take credit for that one too."
Trott was talking to BBC cricket correspondent Jonathan Agnew at the interval during England's record-breaking ODI win over New Zealand at Edgbaston on Tuesday night. Listen to the interview here.