Chris Gayle departs: Farewell to Somerset's 'World Boss'
Last updated on .From the section Cricket
It started with a bang, rained both sixes and smiles, and finally ended in a damp squib, but Chris Gayle's West country stay was box office for the entire three weeks of its run.
The big hitting West Indian's final match for Somerset was abandoned because of rain at a sodden Taunton, but there can be no doubting his impact.
From meeting "The River Man" to turning out for South Devon Cricket Club, Gayle completely immersed himself in life at England's smallest cricketing county, and he also had a lot of fun along the way.
As Somerset say goodbye to Gayle, BBC Sport takes a look back at the impact of the self-proclaimed "World Boss".
The River Man
Somerset fan Martin Bullock stripped down to his underwear to retrieve a six Gayle had smashed into Taunton's River Tone. He instantly became a hero.

It was the West Indian's 15th six of his unbeaten 151 in the T20 defeat by Kent and Bullock, of Cornwall, reckoned it was worth getting wet for.
"Never seen cricket like that before! Simply breathtaking from Chris Gayle," said Bullock, who was filmed swimming for the ball.
And Gayle was similarly impressed when he saw the footage. "Hats off to you Champ," he tweeted in reply.
Gayle would later sign the ball and pose for pictures with Bullock, and also shared a drink with him a few days later.
'World Boss' tries a spot of golf
After seeing Gayle score 243 runs in his first two games, including that blistering 151 not out from 62 balls against Kent on his home debut, Somerset's director of cricket Matt Maynard declared the West Indies star really is the "World Boss".
Maynard said: "It was an absolute pleasure to watch an innings like his on Sunday.
"He's the 'World Boss', he's box office. He's got such a great personality, the way he smiles through the knocks."
Gayle totalled 328 runs in his three appearances, with his 85 not out against Hampshire his lowest score.
Not content with smashing balls out of cricket grounds, Gayle then turned his attention to golf and promptly fired his first attempt at a drive 175 yards straight down the fairway.
Pulling pints and a six for South Devon
Gayle showed his all-round skills by turning out for a club team in Newton Abbot, then serving behind the bar and answering the clubhouse phone.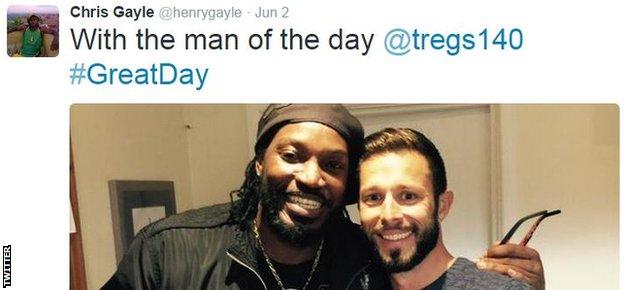 Gayle, 35, made a guest appearance for South Devon in a benefit match for Somerset all-rounder Peter Trego.
After a couple of drinks, Gayle smashed a six and then signed up for the Devon Cricket League B Division side.

"It's been a beautiful day," said Gayle. "It's Tregs's day really but I've enjoyed it. The boys are buzzing. Life is good."
He also answered the phone to BBC Sport in the clubhouse and invited the reporter down for a drink.
Out on the town and meeting Beckham
From nights out with friends and fans, to drinking competitions with former England and current Surrey batsman Kevin Pietersen, Gayle has certainly not gone thirsty during his time in England.
Oh, and there was also the chance meeting with former England captain David Beckham while out shopping in London. Not a bad three weeks, all in all.