Weekend cricket results
Last updated on .From the section Cricket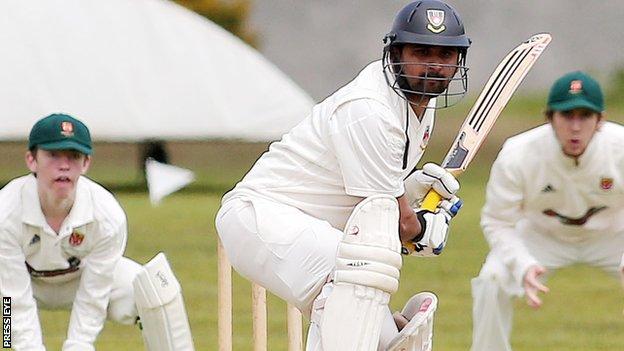 Sunday 14 June
Lagan Valley Steels Twenty20 Cup final
Waringstown v CIYMS at The Lawn
Waringstown 180-5 R Pretorius 71, L Nelson 24, N Jones 2-37
CIYMS 181-5 R van der Dussen 88, N Jones 2-34
CIYMS won by five wickets
CIYMS had only four balls to spare when they defeated Waringstown by five wickets in the final of the Lagan Valley Steels Twenty20 Cup.
Man of the Match was CI's Rassie van der Dussen, following his 88 which set his team well on their way to victory.
Saturday 13 June
Challenge Cup first round
CIYMS v Cliftonville
Cliftonville 147; CIYMS 148-2 (R van der Dussen 91 not out) CIYMS won by eight wickets and now travel to North Down in the second round
Challenge Cup second round
Instonians v Templepatrick
Templepatrick 224; Instonians (225-3 N Smith 93, J Shannon 74 not out) Instonians won by seven wickets
Carrickfergus v Waringstown
Waringstown 420-6 (J Hall 200, L Nelson 72); Carrickfergus 270 (J Holmes 107, I Kamtekar 72) Waringstown won by 150 runs
CSNI v Muckamore - postponed
Ulster Bank Premier League
Ballymena v Lisburn
Ballymena 232-6 (A Ghumann 84, J Kennedy 51 not out); Lisburn 165 Ballymena won by 67 runs
Danske Bank NW Senior Cup
Killyclooney v Donemana
Killyclooney 197 (D Moan 65, G McClintock 4-24 including a hat-trick); Donemana 201-1 (S Wallace 72 not out, G McClintock 56 not out) Donemana won by nine wickets in only 24 overs.
Coleraine v Bready
Bready 214-9 (M Loubser 50; G Cooke 3-37) Coleraine 215-5 (S Campbell 90, R Chopra 44 not out)
Coleraine won by five wickets
Ardmore v Brigade
Ardmore 237-6 (F Mutizwa 80, D Curry 74); Brigade 238-6 G McKeegan 94 Brigade won by four wickets
Drummond v Eglinton
Drummond 183 (A Christie 48; O Williams 3-19); Eglinton 184-9 Eglinton won by one wicket