Jacques Rudolph praises Glamorgan bowlers for 'best effort' of season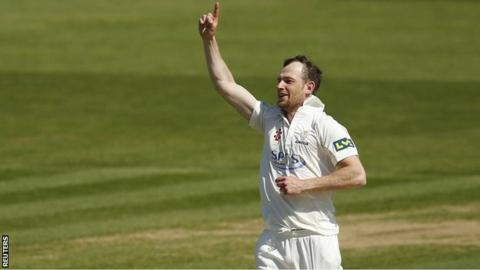 Glamorgan's bowlers turned in their "best effort" of the season according to captain Jacques Rudolph.
The Welsh county's bowlers fought back from a double-century opening stand by Surrey to claim six wickets on the opening day at Guildford.
Surrey slumped from 208-0 to 289-6 at stumps after Arun Harinath hit an impressive 120 on his first Championship appearance of the season.
"If you don't take wickets, you've got to have control," Rudolph said.
"To go for three runs an over on a small ground with a quick outfield is an amazing effort."
David Lloyd and Graham Wagg claimed two wickets each in the Glamorgan fight-back.
"We got the ball into the right areas, continued it into the third session and it paid off for us - so as far as the bowling this season is concerned, that's potentially the best effort for me," Rudolph told BBC Wales.
"Of all the years I've played, I really enjoy days like this where there's nothing happening for 60-70 overs, then before you know it you pick up six wickets.
"It would be nice to try and bat for five sessions, so we'll take the fight to them."
Rudolph is hoping that Glamorgan can take advantage of Surrey fielding a much-changed side, despite sympathising with the "quite horrific" accident which saw Rory Burns and Moises Henriques in hospital after on-field collision at the weekend.
"They've got a few new players, though Harinath played really well, but we're very keen to win this game and we'll go out of our way to do that," Rudolph said.
Glamorgan and Surrey currently boast the only two unbeaten Championship records in Division Two, while both sides claimed two bonus points on the opening day.