Women's Ashes memories: Arran Brindle, former England batter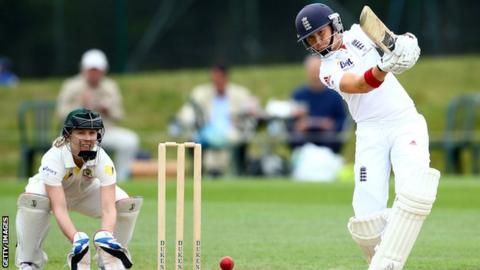 With five weeks to go until England begin the defence of the Women's Ashes against Australia at Taunton, we continue our look ahead with another ex-England player and Ashes winner.
This week, batter Arran Brindle, who retired from international cricket last February after back-to-back Ashes wins in 2013 and 2014, looks back at her favourite memories from her career against Australia.
1. Did you dream of playing for England in the Ashes and how did you feel on your Ashes debut?
Having made my debut against South Africa, once I got into the England squad playing against Australia was the ultimate goal because they were so dominant at that time.
2. Champagne Ashes moment?
For me personally, scoring 101 not out to save the first Test at Hove in 2005 and then being in the middle and hitting the winning run at Worcester that year. But as a team, winning the Test in Perth in 2014 was very, very special.
3. Most important innings?
My innings at Hove in 2005 to save the first Test, and also the 68 that I hit in the first innings at the Waca in Perth in 2014.
4. Best innings & bowling spell from a team-mate or opponent?
Playing against the Australians in the early 2000s was pretty special - Belinda Clark, Lisa Keightley and Karen Rolton with the bat, Cathryn Fitzpatrick and Charmaine Mason with the ball… They just seemed to have every base covered.
5. Favourite Ashes ground and why?
It has to be the Waca in Perth - winning the Test there in 2014 was just brilliant!
6. Fiercest Ashes opponent?
Starting my England career with Cathryn Fitzpatrick steaming in for the Aussies - as undoubtedly the fastest and best bowler in the world - was always a challenge, which I especially relished given my background in men's club cricket.
7. Most memorable Ashes match?
The Twenty20 win at the Ageas Bowl during the first multi-format Women's Ashes in 2013 was a very special game. But the Tests at Hove and Worcester (2005) and in Perth (2014) are definitely at the top - I guess all the winning ones!
8. Ashes moment you would like to forget?
Not strictly an Ashes moment, because it came before the multi-format arrangement, but in 2005, following the Test series win we also had the chance to win the ODI series, having finally beaten Australia in an ODI at Stratford for the first time in 12 years.
In the deciding ODI at Taunton, we were chasing and only needed 20 to win when I got out on 50-odd. We then lost by four runs, which was not much fun - I can safely say that I wouldn't play the same shot again.
9. Best celebration in an Ashes match?
We all got very excited at the Ageas Bowl when Lydia Greenway hit the winning runs in 2013 to win the first multi-format Women's Ashes - an amazing knock from her.
10. Who will win this summer's Women's Ashes?
I think it will be a tight contest, but I am right behind the England girls and know they will have worked even harder to retain the Ashes on home soil than ever before.