Cricket World Cup 2019: Ireland still hope for more than 10 teams
By Stephan Shemilt
BBC Sport
Last updated on .From the section Cricket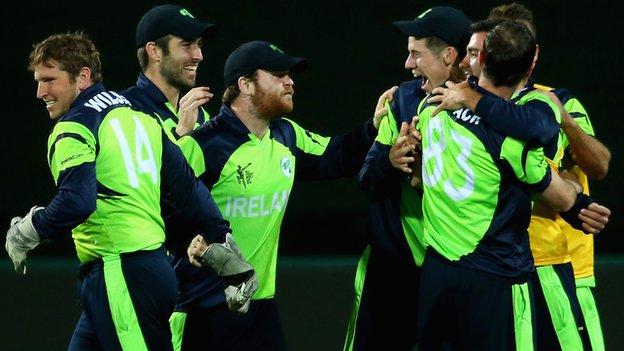 Cricket Ireland chief executive Warren Deutrom is hopeful the 2019 World Cup will include more than 10 teams.
The International Cricket Council meets in Barbados on Monday and could rule on the make-up of the tournament, which will be held in England.
"I never believe in never," Deutrom told BBC Sport.
"One could turn the clock back to to 2011, when the 2015 World Cup was set to include only 10 teams but the decision was overturned."
Ireland have played in each of the last three World Cups, which have contained a minimum of 14 teams, reaching the Super Eight stage in 2007 and narrowly missing out on the quarter-finals earlier this year after beating Test sides West Indies and Zimbabwe.
A 10-team tournament in 2019 has been planned since 2011, when the ICC reversed its decision to cut the 2015 edition.
However, with non-Test sides Ireland, Scotland, Afghanistan and the UAE all performing credibly in Australia and New Zealand, ICC chief executive Dave Richardson said the format of the 2019 tournament could yet be renegotiated.
BBC cricket correspondent Jonathan Agnew:
How can cricket's governing body argue with any credibility that cutting the number of teams involved in a World Cup is good for the global game? There is no logic to that claim.
Read more from Jonathan Agnew's column
"I always believe in reasonableness and hopefully, advocacy will win," said Deutrom, who will attend the five-day annual conference of cricket's governing body.
"Our players and Irish cricket fans can be assured that Cricket Ireland is advocating as much as possible to ICC about the wisdom of embracing a larger World Cup."
One obstacle to the altering of the format could be the television rights, which have already been sold on the understanding that the tournament will contain 10 teams.
Ireland, 10th in the world rankings, could still qualify if they force themselves into the top eight or come through a qualifying tournament in Bangladesh.
And they have made a good start to their bid to earn Test status, beating the UAE in their opening match of the Intercontinental Cup, the competition which provides Associate ICC members the opportunity to earn the right to play the longer format of the game.
"It be wrong to characterise ICC decisions as uniformly poor, very far from it," said Deutrom. "The sport has embraced a pathway to Test cricket and a 12-team ODI structure.
"Even in the World Cup structure, full members are being held to account for the first time - it's a 10-team event with only eight guaranteed qualifiers. There's a possibility of members not making the event."