Mark Footitt: Derbyshire bowler deserves England call - O'Brien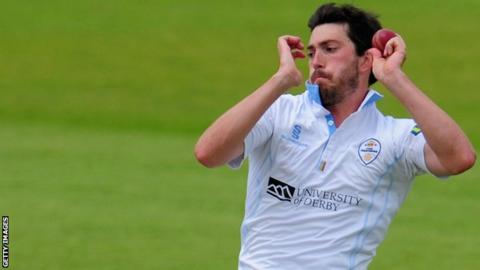 Mark Footitt is "head and shoulders" above his county cricket rivals and fully deserves his England pre-Ashes squad call-up, says BBC Radio Derby's ex-New Zealand bowler Iain O'Brien.
O'Brien, who played 22 Tests, has been commentating on Derbyshire since 2014.
And he believes paceman Footitt, 29, is long overdue international recognition.
"It has been a genuine pleasure to watch him. He's been head and shoulders above all other bowlers in domestic cricket," O'Brien told BBC Sport.
"But I am not influenced by following Derbyshire. He is just that good.
"If England want to win the Ashes, he should be involved given what he has done in the past couple of seasons. He has bowled fast and intelligently, he has got the ball to swing and moved it both ways. And he is very quick - one of the quickest out there.
Former England bowler Ryan Sidebottom:
"Footitt is a good addition. He bowls very quickly and has that variation that England have needed for a long time now. Batsmen do get used to your bowling, especially so in Test cricket. When I was at Nottingham he was a young left-armer with a lot of potential. He was always asking about bowling, always interested in how to win games. He's in good form, and I'm pleased for him. He deserves his chance."
"He bowls with pace but he can go up and down the ranges.
"He doesn't need to be bowling at more than 90 miles per hour all the time. When it's time to drag it back with a little bit more control he can."
Footitt has taken 32 wickets in Division Two of the County Championship this season and O'Brien has no doubts the left-armer can make the step up in quality.
"He should have been in the team to play against New Zealand, taking nothing away from Mark Wood, so that England could have a real good look at him," said O'Brien.
"There is a disparity between his age and how much cricket he has actually played and maybe there has been an element of his age counting against him with the selectors.
"Maybe they are concerned about what's left in the tank and they are going with younger players for the one-day team. But they need to pick a guy when he is playing well for the Tests."