England v New Zealand: Eoin Morgan hails ODI series win
Last updated on .From the section Cricket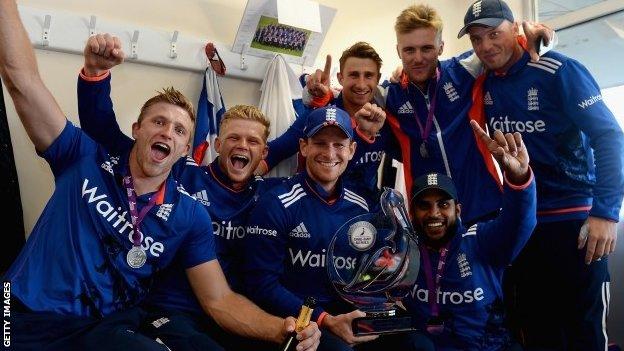 England's one-day displays against New Zealand, and subsequent 3-2 series win, are "everything we've strived for over the past few years", says Eoin Morgan.
After a disastrous World Cup, England won their five-game series against the Black Caps with a three-wicket victory in the decider on Saturday.
"We've come out of left-field," said skipper Morgan. "We've managed to deliver some entertaining cricket.
"Let's hope going into the Ashes that we maintain that level."
England set a number of records during the series, and particularly impressed with the bat - scoring their highest ever ODI score in one game (408-9), and recording their best ever run-chase (350-3) in another.
However, at Chester-le-Street on Saturday, they were indebted to Jonny Bairstow who replaced injured wicketkeeper Jos Buttler and saw a stuttering England to their revised target of 192 off 26 overs with a composed 85 not out.
"Jonny Bairstow was incredible - in what was our worst batting display of the series, he stuck his hand up and won us the game," added Morgan.
Records tumble
England score highest run total by a team in a five-match series - 1,617
Most boundaries from both sides in a five-match series - 390
England score most boundaries in a five-match series by any team - 209
First time a combined 3,000 runs is surpassed in a five-match series - 3,151
New Zealand score their highest total of runs in a five-match series - 1,534
'Care-free atmosphere'
Bairstow was only called into the squad as Buttler's replacement on Friday, but he rescued England from 45-5 in a match disrupted by rain between the two innings.
"I'm obviously delighted to come back and help the boys with the series win," the Yorkshire right-hander, 25, said after scoring his maiden ODI half-century in his ninth match.
"It's a fantastic turnaround, and it's been great to come back into a care-free atmosphere and just play cricket. I'm really, really happy with the way I've been striking the ball and this is the icing on the cake."
Swann's impressions
Have you heard Graeme Swann doing impressions of Jos Buttler and Joe Root? If not,
click here.
'Sensational cricket'
New Zealand captain Brendon McCullum said he was disappointed not to win the series, but believes both sides played their part in an enthralling five-match contest which saw memorable individual performances on both sides.
"It's been a tremendous series," the Black Caps skipper said. "The Test series was keenly fought and some of the cricket we've seen in this ODI series has been sensational.
"The wicket here wasn't as quick as others but we knew any score was going to be hard to defend. Credit to England, they held their nerve under pressure. They had the series on the line but managed to stay true to their attacking philosophies."