Weekend cricket results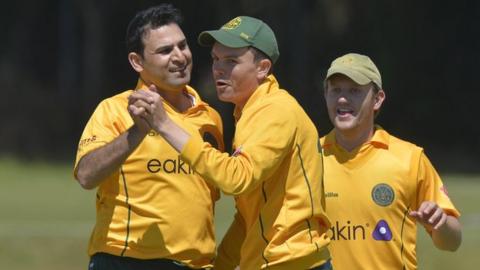 Sunday 21 June
Challenge Cup - second round
CSNI v Muckamore
CSNI 229-6 (40.3 overs)A Cowden 82
D/L target for Muckamore 235 from 37overs. 158 All out.
CSNI won by 76 runs and are at home to Instonians in the semi-finals.
Ulster Cup
Coleraine v Instonians
Coleraine 163N McDonnell 60, S Campbell 29, A White 3-24
Instonians 167-3N Smith 93 no, A White 52 no
Instonians won by seven wickets
CIYMS v Brigade
Brigade 232
CIYMS 147R van der Dussen 38
Brigade won by 85 runs
Strabane v Waringstown
Strabane 173-9
Waringstown 177-1J McCollum 90 no
Waringstown won by nine wickets
The second draw will include Instonians, Waringstown, CSNI, North Down and Carrickfergus from the NCU and Brigade, Eglinton and Donemana from the North-West. Ties to be played on July 19.
Saturday 20 June
Challenge Cup - second round
North Down v CIYMS
CIYMS 260-8 N Burns 50
Under D/L North Down target was 257 from 48 overs
North Down 237-9 D Graham 60 Rain Stopped Play
CIYMS won by D/Lewis and now travel to Waringstown in the semi-final.
Ulster Bank Premier League
Lisburn v Carrickfergus
Lisburn 299 D Simpson 102, D Brown 72
Carrickfergus 160
Lisburn won their first league game by 139 runs
Ballymena v Waringstown
Ballymena 105
Waringstown 106-2 J McCollum 51 no
Waringstown won by eight wickets
Long's Supervalu NW Premiership
Eglinton v Brigade
Brigade 220 A Hunter 71
Eglinton 187
Brigade won by 33 runs
Donemana v Bready
Donemana 287 D McGarrigle 83, R L Dougherty 67
Bready 123 W McClintock 3-25, G McClintock 3-38
Donemana won by 164 runs
Strabane v St Johnston
Strabane 282-9 J Patton 50, K Gillespie 46
St Johnston 223 K Singh 51 (off 24 balls)
Strabane won by 59 runs
Coleraine v Ardmore
Ardmore 125 C Curley 25, R Chopra 2-6
Coleraine 126-2 K Vardhan 73 no, S Campbell 41
Coleraine won by eight wickets