Brendon McCullum: 'New Zealand star can be dangerous for Bears'
Last updated on .From the section Cricket
Brendon McCullum is ready to make his Birmingham Bears debut on Friday night at Old Trafford, on the same stage on which he briefly shone for New Zealand against England in Tuesday night's T20.
"Never mind putting a few on the gate, I hope he puts a few over the gate too," Brown told BBC Sport.
"He's an incredibly dangerous player. If he scores runs they'll be exciting."
The magic of McCullum
Brendon McCullum smashed a world-record 18-ball half-century as New Zealand beat England at the World Cup earlier this year.
He is the leading run scorer in the history of international T20s, having scored 2,140 at an average of 35.60, including two centuries.
He has signed a seven-game deal at Edgbaston, which makes him available for half of the Bears' group games.
His three home matches are against Derbyshire (Friday, 3 July), Lancashire (Friday, 17 July) and Northants (Wednesday, 22 July).
McCullum's four sixes against England on Tuesday mean that he has now cleared the ropes 273 times in T20 cricket.
The 33-year-old has six centuries and has amassed 6,041 runs in the game's shortest format, at a scoring-rate of 135.53 runs per 100 balls.
"I'd like to think, in the seven games he plays for us, he can get stuck in in at least a couple of them," added Warwickshire director of cricket Brown, who first tried to sign the Kiwi skipper a year ago.
"He comes on the back of a brilliant World Cup in which he captained New Zealand outstandingly and pretty much got the whole nation behind his team. To take the All Blacks off the back pages and put the cricket team on them, and on the front pages too, was an outstanding achievement.
"I phoned last year and made a cheeky enquiry, and he said that he was committed to staying in New Zealand but to phone him again this year.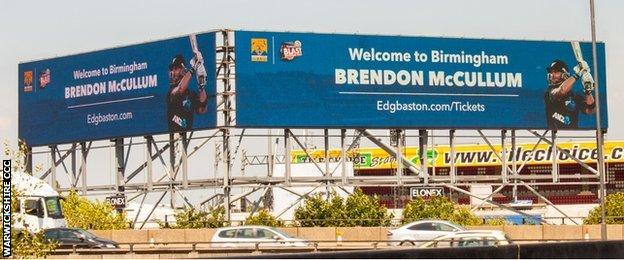 "I played with and against him, He's a top guy. We know his qualities as a person and as a player. He loves his golf too. That was a big sell for him, with The Belfry and Forest of Arden just round the corner and Edgbaston right on the doorstep."
Sunday's comfortable victory over Yorkshire at Edgbaston leaves the T20 Blast holders second in the North Group, level on points with neighbours Worcestershire, who are top.
The Bears are, in fact, far more handily placed than they were a year ago to finish in the four qualification spots, and to push hard for the top-two finish that would guarantee a home quarter-final tie.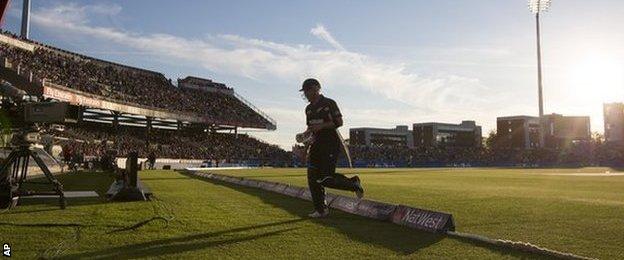 After winning five of their seven games, the only problem is who to leave out - but the Bears are spared that problem as Ian Bell, who heads to Spain this weekend for England's pre-Ashes training camp, has not been named in the squad for Old Trafford.
Bears (from): Chopra, Ambrose, Clarke, Evans, Gordon, Hannon-Dalby, Javid, Lewis, McCullum, Patel, Porterfield, Poysden, Rankin.