T20: Glamorgan's Dean Cosker eyes 'massive' Somerset game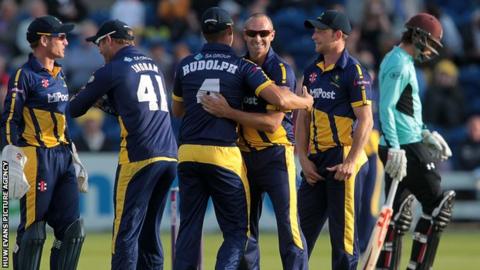 Glamorgan all-rounder Dean Cosker says it is crucial they win at Somerset on Sunday to boost their T20 Blast quarter-final hopes.
Friday's 19-run loss to Surrey in Cardiff saw Glamorgan drop to seventh in the South group with four wins from nine games.
But a win at Taunton would see Glamorgan leap-frog Somerset in fifth.
"It's a massive game at Somerset, it always is, the boys get really fired up for that duel," Cosker said.
"There's a huge rivalry with Somerset and Glamorgan, we're not going to take the game lightly - it's normally high scoring - we've done pretty well there recently over the last couple of years.
"The Twenty20 campaign is all about gaining momentum: we've gained momentum at the start of the competition but lost our way again.
"It's like a rollercoaster - all ups and downs - and hopefully we can turn it around next game.
"Every game is a huge game now on in, we're just over halfway in the competition ."