Women's Ashes memories: Ebony Rainford-Brent, ex-England batter
Last updated on .From the section Women's Cricket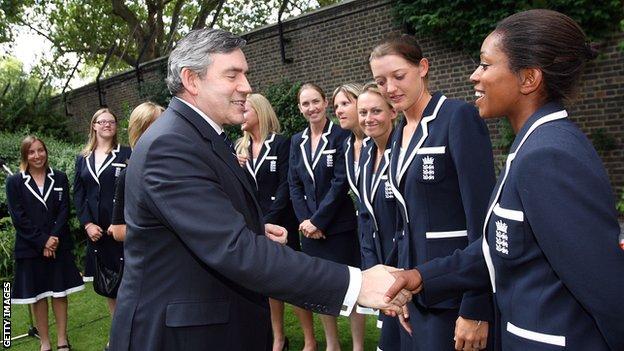 It is only three weeks until England get their Women's Ashes defence under way at the County Ground in Taunton.
In the latest of our Q&As with former players, ex-England batter Ebony Rainford-Brent - now Surrey's director of women's cricket and a BBC Test Match Special summariser - looks back at her encounters with Australia's Southern Stars.
1. Did you dream of playing for England in the Ashes and how did you feel on your Ashes debut?
Playing in an Ashes series has to be the pinnacle for any English cricketer. There is such an amazing build-up knowing the history behind the rivalry. The introduction of the multi-format Women's Ashes was unfortunately after my time, so I never actually played an 'Ashes' match against Australia.
But I did play against them in several one-day internationals and Twenty20 internationals throughout my career, and I remember how I felt during every one of those matches - a mixture of ridiculous nerves and never-ending excitement. It is rare to get so many mixed emotions at once, but it is something never to be forgotten.
2. Champagne Ashes moment?
Champagne moment has to be us lifting the trophy in 2009. I didn't play in the Tests that summer, but I did play in the ODI and T20 series, and after an incredible summer of winning the Women's World Cup, World Twenty20 and then the Ashes, just being in the squad was amazing and nothing can compare to how proud and excited I was to be a part of it.
3. Most important innings?
Not sure I really had one. At a push, probably my 30 not out with Sarah Taylor at Chelmsford in 2009.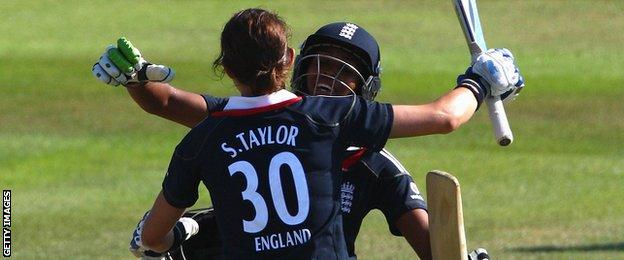 4. Best innings or bowling spell that you saw from a team-mate or opponent?
Two stand out for me for different reasons. First, Beth Morgan scoring 58 in the Test at Worcester in 2009 - it was a real tough period in the game when the Aussies were on top and we just needed someone to just dig it out at the crease.
Watching her bat for five hours with that level of concentration was incredible and no doubt helped us to retain the Ashes. It was what Test cricket is all about - determination and will power. The stone wall.
The second is a completely contrasting innings, Sarah Taylor's 120 in an ODI at Chelmsford against the Aussies in the same summer of 2009.
I was honoured to be watching at the other end as I managed to muster my cheeky 30 not out. But what I enjoyed most was just watching pure talent, she completely dominated the bowling that day, and we had such a laugh in the middle - it was how you wish most innings to be: fun, relaxed and taking down the Aussies.
It's a memory we both joke about often because all she can remember from it is hearing me commentate from the other end, screaming out 'shot' every other ball… a sign of things to come from her.
The biggest name in cricket?
Ebony-Jewel Cora-Lee Camellia Rosamond Rainford-Brent
played 22 ODIs and seven T20 internationals for England between 2001 and 2010
5. Favourite Ashes ground and why?
Has to be Chelmsford. The atmosphere is always incredible, always a full house and usually televised games. You always know there is going to be a sense of occasion there, and a lot to look forward to.
6. Fiercest Ashes opponent?
Fast bowler Cathryn Fitzpatrick. Even though I faced her at the end of her career, she was still rapid. I still remember her slamming a short ball into my shoulder after I attempted to hit her for a boundary. I think with her you always knew the fire was in her belly, and I doubt I ever faced a better bowler.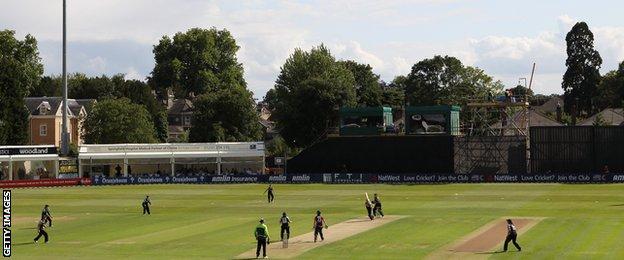 7. Most memorable Ashes match?
That is really hard to judge, every time I played against Australia there was always a sense of occasion, which is rare across an entire series. But I think it has to again be the match at Worcester in 2009.
8. Ashes moment you would like to forget?
I think it would have to be getting a duck at Wormsley in 2009. No one likes getting nought, but at such a lovely ground and after being told by our coach Jack Birkenshaw as I was walking out "don't cut the ball till you are set" - first ball from Shelley Nitschke I cut it straight into the keeper's gloves. Felt like a right plonker.
9. Best celebration you have seen in an Ashes match?
During the 2009 series Katherine Brunt had this whole horse trot/Gangnam Style thing going on… it was infectious so we all joined in.
10. Who will win this summer's Women's Ashes?
A tough one. At home I think England will just pip over the line. But with the reduction in the number of points for the Test, the Aussies might dominate in the shorter formats, so they will be dangerous. I think this will be the most exciting Women's Ashes series that we have seen since the multi-format context was introduced.