Ashes 2015: David Steele became an unlikely England hero in 1975
Last updated on .From the section Cricket
To get a flavour of David Steele's shambolic introduction to Test cricket, type 'Spinal Tap lost backstage' into YouTube; substitute a bespectacled, grey-haired chap carrying a cricket bat for a heavy metal band wielding axes; savour the absurdity.
"When it was my turn to bat, I missed the Long Room, dropped down another flight of stairs and ended up outside the toilets," says Steele, who made his England debut against Australia at Lord's 40 years ago this month. "A chap on the door said: 'Probably best if you head back up.'
"Then when I finally made it down the pavilion steps, I could hear the comments from the members: 'Who's this grey-haired bleeder?'"
When Steele finally made it to the middle, the abuse continued. "Dennis Lillee said to me: 'Where the hell have you been, Groucho?' I replied: 'I almost ended up in the toilets, Dennis. Do you mind going back over there and having a bowl?'"
Following a 4-1 drubbing the previous winter and an innings defeat in the first Test at Edgbaston, the English public craved the intervention of a superhero. One wicket down in the second Test, out wandered Mr Magoo.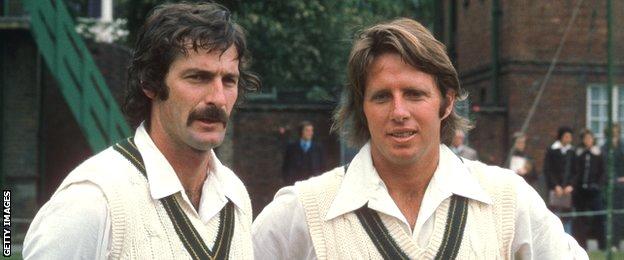 But Tony Greig knew different. Newly installed as England captain following the sacking of Mike Denness, Greig, always an original thinker, asked various umpires the question: "Who's the most difficult batsman to dismiss in county cricket?" With Geoffrey Boycott in self-imposed international exile, Greig needed an anchor - Steele was that man.
Prior to the summer of 1975, Steele, who learned his cricket in the Staffordshire leagues against such greats as Frank Worrell and Sonny Ramadhin, averaged a modest 31 in 12 seasons of first-class cricket. He also played for "unfashionable" Northants, where promising players would often lament: "No matter what we do, we'll never be picked for England."
To call the 33-year-old Steele 'unsung' would be an understatement. And almost every aspect of his England call-up had more in common with village than international cricket, at least by modern standards.
Steele found out he had been picked for the Lord's Test while driving to Dudley for a one-dayer against Worcestershire. "The car in front started honking his horn," says Steele. "We pulled over and someone told me I was in the 12.
"It was my benefit year, so it was the first time I hadn't thought about cricket too much - all I was thinking about was earning a bob or two, so when I did bat I felt relaxed and got runs. But it was still a surprise getting picked by England."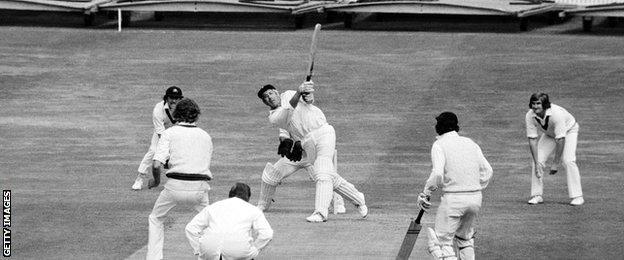 A couple of weeks before Steele's England bow, someone nicked all his cricket kit from a car park, after a benefit match in Wellingborough.
"I had to play Sussex - Greigy's team - with a borrowed bat and didn't get runs," says Steele. "I was really depressed. But four days before the Test, a bloke phoned up and said: 'I've got your kit.' He'd got drunk, stolen my case, thrown it in his garage and gone on holiday. I said to him: 'Do you mind bringing it over? That would be awfully good of you...'"
When Steele turned up at Lord's, Sir Len Hutton, England batting great turned selector, called him Dennis. Jim Laker, England spinning great turned BBC commentator, also referred to him as Dennis during the early part of his innings. Never had the phrase "plucked from the sleepy shires" seemed more appropriate for an England cricketer.
However, as wickets fell around him - Lillee, one half of devastating pace partnership with Jeff Thomson, reduced the hosts to 49-4 before lunch - Steele began to chisel his name into a grateful nation's collective consciousness.
But Steele didn't just chisel. His first runs in Test cricket - four of them - came courtesy of a full-blooded hook off a Lillee bouncer. This, remember, was before cricket helmets had even been invented. And Steele, to the consternation of some in the England dressing room, was using a folded towel instead of an actual thigh pad.
"You just went out and played quick bowling in those days," says Steele. "And made sure your glasses were clean. Lillee called me 'a bloody jockey', because I had the peak of my cap turned up. But wearing those lions was something I'd dreamed about since I was a kid. So I was ready. And it was wonderful."
Steele put on 96 for the fifth wicket with Greig before being dismissed for 50. Greig fell four runs short of a hundred, before England were dismissed for 315. Steele added 45 in the second innings before the tourists batted out the final day for a draw.
English honour had been partially restored and Steele had taken on symbolic significance. The Sun called him "the bank clerk who went to war". A back-handed compliment, but better than being called Dennis.
Steele's new-found fame came with perks. A Northamptonshire abattoir owner offered to pay him a lamb chop for every run he scored up to 50 in the third Test at Headingley, and a steak for every run after that. Steele made 72 on day one.
"I got a telegram the following morning," says Steele. "'Dear David, I owe you 50 lamb chops and 22 steaks. Take your time in the second innings - I'm running out of lamb.'" In his second dig, Steele scored 92. "I didn't earn much money that summer but I was eating lamb chops and steak for two years solid."
That third Test was abandoned after four days because vandals, campaigning for the release from prison of armed robber George Davis, sabotaged the pitch with knives and oil. It was a most peculiar summer of cricket.
Steele added 39 and 66 in the fourth and final Test at The Oval, which was also drawn. Australia had won the series 1-0 and retained the Ashes. But Steele, by virtue of standing up to the Aussies while looking quite ordinary - the English prefer their heroes to look like them - had been the undoubted headline act.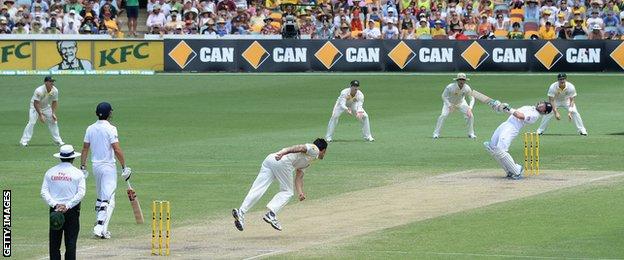 "The English like that sort of thing," says Steele, "somebody getting stuck in and pulling things round. Someone even described it as Churchillian."
Speaking to me in the garden of his home in the Northamptonshire village of Geddington, Steele radiates immense pride. Every so often he jabs his forehead to remind me where his three England lions rampaged, as bullets from Lillee and Thomson whistled by.
Now 73, he has told these stories a thousand times but he still tells them with relish. Far from the prim bank clerk he was portrayed as, Steele - who actually concentrated on the print game after retiring from cricket in 1985 - is earthy and irreverent, with a particular love of Boycott-baiting. Which is always a bonus.
A year after standing up to the Aussies, Steele was frustrating the West Indies. Greig had vowed to make the tourists "grovel" but England were blown to smithereens, losing the Test series 3-0. However, against a pace battery that included Michael Holding and Andy Roberts, Steele top-scored for England and made a century at Trent Bridge.
Steele was rewarded by being dropped for that winter's tour of India and never played for England again. "They didn't explain why," he says, still hurt. "It wasn't right. But the English public appreciated what I did, which was lovely."
Steele recalls that when he was voted Sports Personality of the Year in 1975, "the man who gave me the award called me Derek". But his name remains synonymous with understated pluck and stoicism under extreme fire, at least in the cricket fraternity.
With Mitchell Johnson and Mitchell Starc - both of whom can reach speeds of up to 95mph - among the ranks of the touring Australians for this summer's Ashes series, England's batsmen will need plenty of that Steele-like pluck and stoicism. At least they'll all have helmets.
"When England got whitewashed down under last time out, their batsmen didn't fancy the Australian fast bowling," says Steele, through a grimace. "And England will be up against it again this time. But they have a hope. No doubt about that." Just don't expect him to bet his last lamb chop on it.