Women's Ashes memories: Isa Guha, ex-England seamer
Last updated on .From the section Women's Cricket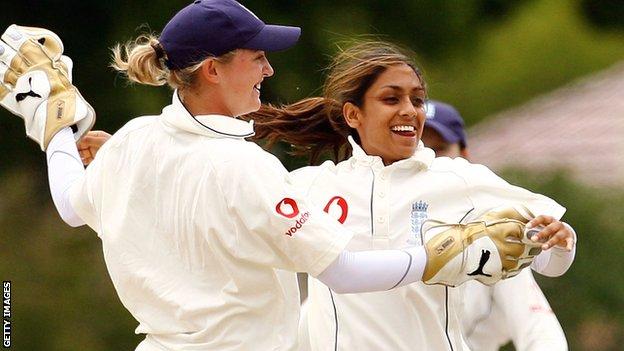 With just two weeks to go until the start of the 2015 Women's Ashes series in Taunton, it is time for our penultimate Q&A with an ex-England star.
Former England right-arm seamer Isa Guha, now a BBC Test Match Special summariser, takes us back through her Ashes memories.
1. Did you dream of playing for England in the Ashes and how did you feel on your Ashes debut?
I always dreamed of playing for England and wanted to play in every match so I was gutted when I wasn't selected for the first 2005 Ashes Test at Hove. I made my Ashes debut in the next match at Worcester, though, and absolutely loved the experience - and what a game it was! We'd get back after play every day and watch the men do their thing - it was just a fantastic summer for cricket and it captured the nation.
2. Champagne Ashes moment?
Winning at Worcester in 2005 and beating the Aussies for the first time in 42 years, but 2008 at Bowral on a personal note.
3. Best bowling spell?
Taking 9-100 in the match at Bowral in 2008 - I hadn't played the majority of the tour and I got a last minute call-up as Jenny Gunn wasn't fit to play. Conditions suited me and I was just delighted to contribute and take my opportunity.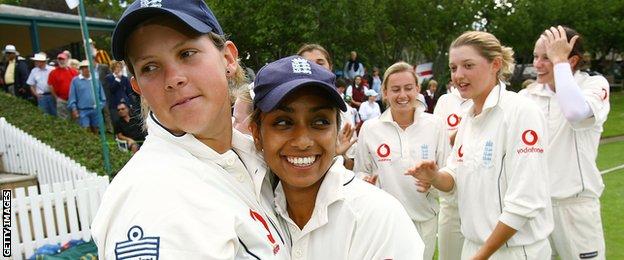 4. Best innings or bowling spell that you saw from a team-mate or opponent?
Katherine Brunt's nine-for in 2005 at Worcester was very inspirational.
5. Favourite Ashes ground and why?
Bowral - not only because of my personal performance there in 2008, but also the sheer beauty of the ground: the white picket fence, the green surroundings and the picturesque setting made it feel very English.
Also, the fact that it was the home of Don Bradman… it gave me goosebumps every time I stepped onto the field. Maybe it sounds a bit cheesy, but I had a real connection with that ground - even when I played there with the Under-19s in 2002 and I didn't do so well.
6. Fiercest Ashes opponent?
Fast bowler Cathryn Fitzpatrick in 2005 - the girls will say she was starting to lose pace at that point but she still had aggression! And Lisa Sthalekar wasn't the fiercest but was one of the most stubborn players - we used to call her "the Wasp" because she could sting you at any time.
7. Most memorable Ashes match?
Worcester in 2005, because it was my first Ashes Test match and we hadn't won in 42 years, and Bowral in 2008, again for personal reasons, but also because we hadn't won down under in many, many years.
8. Ashes moment you would like to forget?
After toiling away for ages at the crease at Bankstown Oval in Sydney in 2011 with Holly Colvin, we both got out to silly run-outs, and then had to bowl into the most ridiculous wind 10 minutes later, but I guess that's the beauty of cricket - it tests you sometimes!
We ended up losing and it was one of those games where no matter what we tried, it just didn't go our way. I remember there being lots of run-out opportunities, which we didn't take, then once Alex Blackwell and Sarah Elliott were settled they looked to attack the slower bowlers. Knowing that it could potentially be my last Ashes match made it more difficult to take but you win some, you lose some.
9. Best celebration you have seen in an Ashes match?
Probably when we won the 2005 Ashes - Arran Brindle and Lydia Greenway were at the crease and it was a very special moment when they scored the winning runs. It was a real turning point for us as a team because we were 2-0 down in the one-day international series with three games left to play afterwards. We suddenly had the belief that we could beat the best side in the world and went on to win the next ODI against Australia for the first time in 10 years.
10. Who will win this summer's Women's Ashes?
England, of course!
BBC Radio will have commentary on all matches of the Women's Ashes series.