Mick Newell: Peter Moores's perspective will boost Notts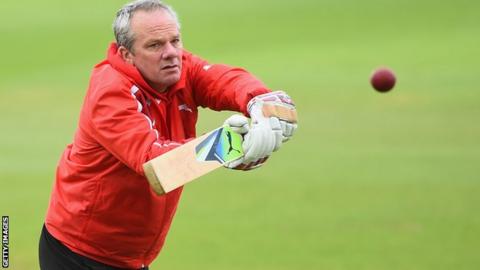 Nottinghamshire director of cricket Mick Newell says bringing in ex-England head coach Peter Moores to work as a coaching consultant will bring a much-needed fresh outlook.
Notts are bottom of Division One of the County Championship after eight games.
Their T20 Blast form is also patchy, with five losses from nine leaving them seventh in the North Group.
"He hasn't had anything to do with this club so maybe that it is a good thing," Newell told BBC Radio Nottingham.
"This is a very home-based club. It's Nottinghamshire people and Nottinghamshire coaches.
"Sometimes you think, 'hang on a minute, should we get a different perspective on that?'
"Cricket is a bit like that, you stay within. Maybe cricket in Nottinghamshire will benefit from having the opinion of a guy who isn't Nottinghamshire through and through."
Moores, who was sacked from his second stint as England head coach in May, has been given a three-month contract with Notts.
But Newell said nothing had been decided about his own role - or the club's coaching set-up - beyond the end of the season.
"We will sit down again in September," Newell added.
"Our priority is to stay in Division One and to improve our T20 cricket. And when the 50-over competition starts, we want to have a real go at that.
"Anybody's future and the future of the coaching and structure will be looked at come the end of the season.
"We wanted to do something for the short term. We want to bring in a guy who can improve us now and worry about the long term in September.
"I am still going to be responsible for the results of the team and performances.
"But sometimes you have to think, 'Am I benefiting the team?' and we felt we could do better."