Wasim Khan: Andrew McDonald could be future Australia coach
Last updated on .From the section Cricket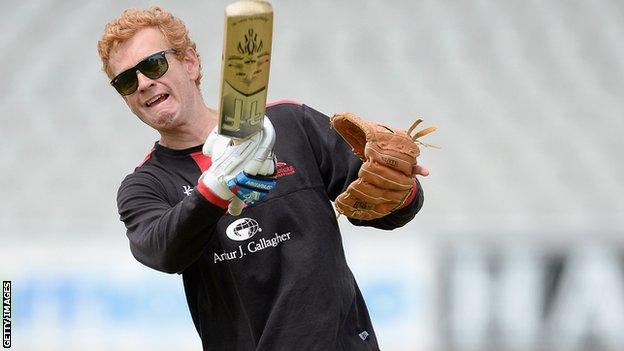 Andrew McDonald has the ability to become Australia's head coach, according to Leicestershire chief executive Wasim Khan.
Ex-Aussie Test all-rounder McDonald, 34, was appointed by Khan in November and has signed an extended deal as head coach until the end of the 2017 season.
"I think we have somebody who will go places," Khan told BBC Radio Leicester.
"You can easily see him being Australia coach in six or seven years. He has the potential and a great cricket brain."
McDonald inherited a side who had failed to win in the Championship for two consecutive seasons, but they ended that run by beating Essex in June.
And although that success is Leicestershire's only win from nine Championship games in 2015 and they lie second from bottom of Division Two, Khan has been impressed by McDonald's impact.
"He is well respected in Australia and here," Khan added.
"There has been such a vast improvement already in terms of the culture we are creating at the club. Andrew has been right at the heart of that.
"It is clear the players respect him and respond to him. Things are not going to change overnight but we have already seen significant progress.
"The future bodes well to have that continuity with Macca. There are a few players yet to sign contracts and we hope the faith of having Macca around for at least another two years will entice them and give them the confidence that this is the place they want to be.
"I think he has always seen this as a three to five-year project. His words to me were 'we are really on to something here. It is exciting and I want to be a part of it', which is music to a CEO's ears."