Kumar Sangakkara on retirement, his future, the Ashes and Bayliss
Last updated on .From the section Cricket
Sri Lanka batsman Kumar Sangakkara says he is "at peace" with his decision to retire from Test cricket.
Last month the 37-year-old announced he will finish his international career after the second match of the three-Test series against India in August.
Sangakkara, who is six months into a two-year deal with Surrey, is Sri Lanka's highest run scorer and is the fifth-highest Test scorer of all time, with 12,305 runs in his 132 Test appearances.
He has spoken to the BBC Asian Network about his international retirement, his plans for the future and also whether he is backing Australia or England to win this summer's Ashes series.
Sangakkara on his international retirement
"When you finally get to that point, there is a sense of relief and sadness but at the same time you understand that there is a different part of your life to look forward to.
"Cricket will still be a part of it but there are so many other things to enjoy. Ultimately I am at peace with my decision.
"The timing of the decision has nothing to do with the year I've had. I am pretty sure I could contribute for another year and a half, possibly two.
"But when you realise you are fast approaching 38, there is a little voice in your head which starts asking you a few questions. You realise that the end is nigh and it's time to make a decision.
"It's been a while coming and a lot of thought and discussion went into it. I have no doubt in my mind that its the right decision to make, both from a personal but also a cricket and a team point of view."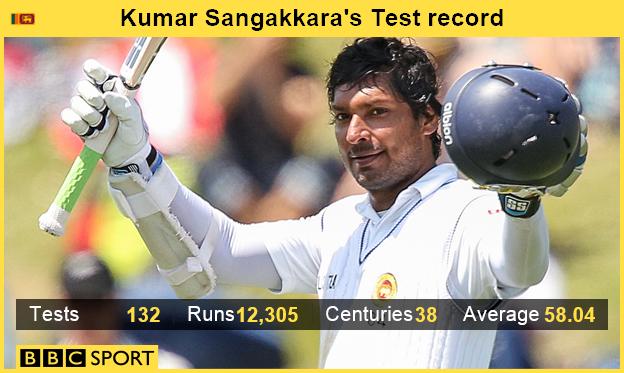 On his future - will he enter politics?
"I will have to be smart and think about what opportunities to take. But it will still be an exciting choice to make and I hope to have the strength to make the right choices.
"Not politics for sure - I am someone who likes to talk about it rather than do something about it.
"Cricket-wise in Sri Lanka everyone is pretty keen to give something back and however you decide to give that back - coaching, administration or doing a little bit however you can - I will always be available.
"Could I go into commentary? I don't know, but it's important to sit down and take stock and when you do make a decision, you make it for the right reasons.
"Sri Lankan cricket is at a crossroads right now - where the interim committee has been charged with changing the nature and administration of the structure of first class cricket, and to turn into a sustainable and more transparent and accountable model.
"I think it's such an important task and such a vital one that I wish them all the best. If there is anything I can do to help, I am available and I hope we can take Sri Lanka onto a new path."
On England's appointment of Trevor Bayliss

"He will bring a lot of honesty, stability and good old fashioned hard work - and he is a wonderful human being.
"He is good, he is honest and he is simple. He gives it everything and he is also a very good man manager so England could not have asked for a better coach.
"I am excited for Trevor and he will do a great job with England as long as the players let him in and leave room for what Trevor has to offer."
On the Ashes
"The advantage is with Australia, it's an Ashes for them to lose.
"But looking at the quality England have, I think the Ashes will be closer than most would think, and they will give Australia a strong run for their money.
"The Australians are a wonderfully strong group and led by a wonderful leader, not just a captain in Michael Clarke, but over the last two or three years we have seen a transformation that's been amazing - he has grown as an individual and as a cricketer so he will have a huge impact on the series.
"They will come out all guns blazing and play a fantastic brand of cricket and England will also do the same. Everyone will hope for a great contest and I think it will be one."