Middlesex: Vinny Codrington resigns as chief executive at Lord's
Last updated on .From the section Cricket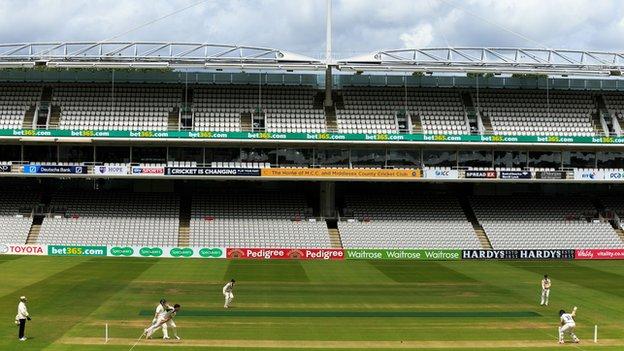 Vinny Codrington has resigned as chief executive of Middlesex, after 18 years' service at the home of cricket, Lord's.
Codrington, 58, who succeeded Joe Hardstaff as Middlesex secretary in 1997 before later assuming the role of CEO, leaves with immediate effect.
"He has been an immensely popular chief executive and leaves with our best wishes," said club chairman Ian Lovett.
Codrington said "now is a good time to make the move and seek a new challenge".
Lovett added: "In the modern era, it's almost unheard of for a chief executive to spend 18 years at the same sports club.
"In that time, the club has been completely revolutionised from top to bottom, whether it has been the streamlining of our committee structure, the professionalism of our cricket department, or the development of our training ground at Radlett."
In the trophy cabinet . . .
Middlesex have won two major trophies in Vinny Codrington's time at Lord's. They won the Twenty20 in 2008 and were County Championship Division Two title winners in 2011.
Codrington added: "Once I had made my decision, I felt it was in the best interests of both parties for me to move on immediately, so I requested a release from my contract.
"Being the chief executive of a sporting organisation is emotionally draining in every sense. After 18 years, this does catch up with you and that is why I have been considering my position."
Codrington's departure comes in the wake of a reported MCC investigation into the unofficial resale of tickets for July's second Ashes Test at Lord's involving a company set up by Middlesex and Australia opener Chris Rogers.
Rogers has denied any wrongdoing.
"People may assume that the Chris Rogers ticket affair was a factor in this," said Codrington. "I cannot deny that we, as a club, made mistakes on the issue. However, it is not a factor in my resignation, nor was I asked to resign by the club."