Glamorgan: Colin Ingram aiming for big score against Derbyshire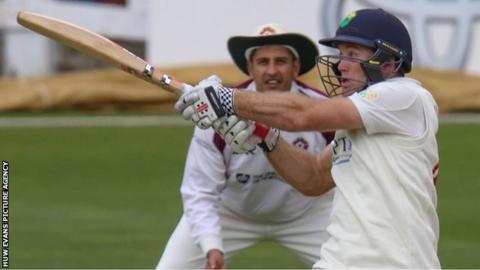 Glamorgan's Colin Ingram says he aims to "go big" on the day two of the Championship match against Derbyshire after reaching his highest four-day score for the county.
Ingram was 73 not out as Glamorgan finished a much-interrupted first day at Chesterfield on 167-3.
"It was a tough day, but I'm really excited by the way the guys played today," said Ingram.
Glamorgan wicketkeeper Mark Wallace had an x-ray on a thumb injury.
The former captain retired hurt after being struck on the hand by the second ball he faced.
Ingram had previously made three four-day half-centuries for Glamorgan but with a highest score of 60, saving his best innings for the T20 Blast.
He struck sixteen boundaries in his innings despite coming in when Glamorgan had slumped to 10- 2 in the third over in gloomy conditions.
Will Bragg with 37 and Craig Meschede with 34 not out were the day's other main contributors against an all-seam Derbyshire attack.
"I think the chat among the team is that we want to play positive cricket and if the bad ball is there, then jump on it," added South African Ingram.
"Even with a bit of moisture around the ball skidded on and there were scoring opportunities.
"It would be nice to cash in and really go big for the team. I've got a few starts so it would be great to spend some more time out in the middle [on day two]."
Ingram could also find himself acting as wicket-keeper if Wallace is unable to take the gloves when Derbyshire bat, having done the duties for his South African side the Warriors in their last campaign.