Bavalan Pathmanathan dies after being struck in chest by ball
Last updated on .From the section Cricket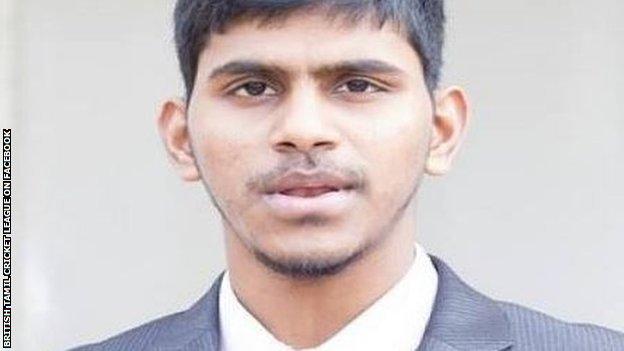 A cricketer has died after being struck on the chest by a ball during a local league match in Surrey.
Bavalan Pathmanathan, 24, was batting for Manipay Parish Sports Club in the British Tamil League on Sunday at Long Ditton recreation grounds.
An air ambulance was called but he later died of his injuries.
In November, Australia batsman Phillip Hughes died two days after being struck on the top of the neck by a ball during a domestic match in Sydney.
A team-mate of Pathmanathan's, who was also batting at the time, told the Colombo Mirror: "When he received the hit I asked from the other end if he is alright. He gave a thumb-up and nodded to indicate he was alright, while pressing his chest.
"He took a couple of steps behind the stumps and collapsed.
"He was such a talented and composed cricketer and a darling friend of all of us. Every one of us is going through terrible pain as a result of this terrible loss."
England and Wales Cricket Board statement
"We are deeply saddened to learn about this tragedy. We send our condolences to Bavalan's family, friends and team-mates during this upsetting time."
A statement on Manipay Parish Sports Club's Facebook page said they were "totally shocked by his death at this young age".
Surrey chief executive Richard Gould added: "Everyone at the club has been deeply saddened to learn of Bavalan's death and would like to extend their sympathies to his family, friends and everyone who knew him from within the community of cricket."
A report by the Federation of International Cricketers' Associations (Fica) found last month that cricketers are as much at risk from lightning strikes, mental illness and terrorism as they are of being seriously injured by the ball.