Ashes 2015: Positive Joe Root shows the way for England

By Jonathan Agnew
BBC cricket correspondent
Last updated on .From the section Cricket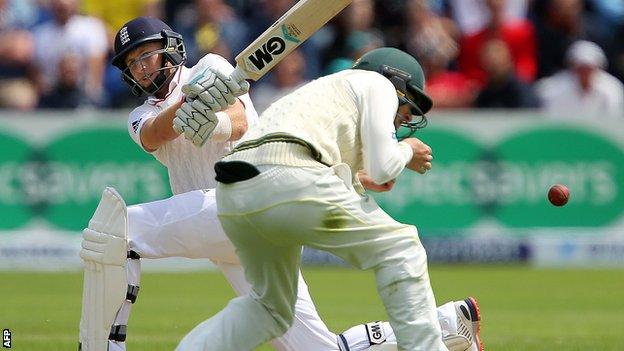 When Joe Root walked to the crease on the first morning of the 2015 Ashes in Cardiff England were in deep trouble.
At 43-3, they needed someone not only to shore things up but also to counter-attack and that is exactly what the in-form Yorkshire batsman did as he wrested the initiative back to England, who reached 343-7 by the close.
In playing so fluently and busily, he showed exactly how to be positive in Test cricket.
That's not necessarily by swiping the ball around in one-day mode. It's by pushing, running, finding the gaps and innovating.
'Root is relishing being a senior player'
In truth, Australia were very inconsistent with the ball. They bowled a lot of short stuff on a sluggish pitch and were often firing it down the leg side.
But that is taking nothing away from Root, who is such a difficult player to bowl at. If you get it slightly too straight it goes through the leg side, but if you stray outside off he can guide you through gully and backward point.
This game is all about confidence and I suspect Root's elevation to vice-captaincy has been a nice boost for him. He is clearly relishing being a senior player and it's wonderful to watch him play at the moment.
Root closes in on Cook century record
Joe Root has scored seven Test centuries before the age of 25. Among England players, only Alastair Cook managed more - nine. Former all-rounder Ian Botham made six.
Root's innings was all the more remarkable given the nature of the pitch. To score 134 runs from 166 balls on such a very slow surface is a superb effort.
I just hope there hasn't been a decree from above that this is how the pitches are going to be for the entire series because that would be really disappointing.
You want to have consistent bounce and pace. You don't want to see the ball bouncing twice to the keeper in the first over of the match.
'It is how you respond in adversity that defines your ability'
Pressed into action after only two overs, Gary Ballance can be very pleased with his battling half-century on Wednesday.
He had a bit of luck with the short ball, got hit a couple of times and could easily have been caught at short leg, but he stuck it out and compiled a really gutsy 61.
Every cricketer tends to have a tough time in their second year, whether it be in Test or first-class cricket. You tend to get found out a bit and bowlers formulate plans to get you out.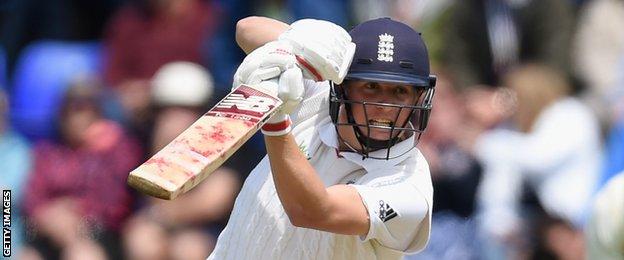 Ballance had struggled in recent matches but it is how you respond to adversity that defines your ability as a player.
It wasn't a pretty innings, and the fact that he missed a straight ball to get out suggests he is still some way off top form, but it showed that he has the right character to be a success at this level.
'England paid the price for being too cavalier'
Given the hard work Root and Ballance had put in to get England into a commanding position it was disappointing to see the hosts surrender some of the initiative with some loose shots in the final session.
The very best sides look at the state of the game and play accordingly. With the new ball just round the corner was, Root and Stokes should have realised their job was just to see it through to 80 overs and then fight hard to the close.
But they paid the price for a slightly too cavalier approach and gave Australia a bit of a lifeline.
As it happened, late runs from Moeen Ali and Jos Buttler kept England moving forwards in the closing stages of a really entertaining first day, but as ever we really won't be able to assess what is a good score until both teams have batted.
Jonathan Agnew was speaking to BBC Sport's Sam Sheringham