Ashes 2015: England optimistic but history teaches caution

By Tom Fordyce
Chief sports writer
Last updated on .From the section Cricket232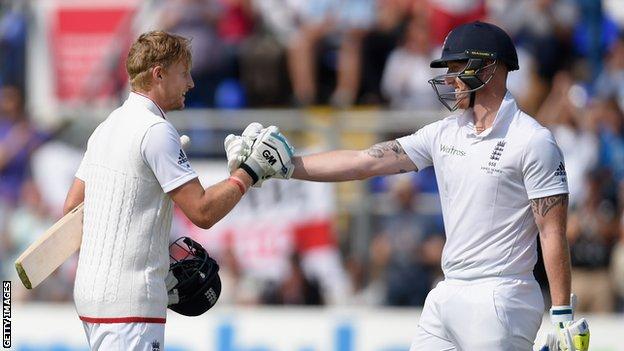 A great deal can change between the last day of one Ashes series and the first of the next.
Think the last year and a half has gone fast? Then it might be worth reminding yourself that the previous Ashes Test ended with Boyd Rankin at the crease and with Joe Root dropped from the England team.
Root was dropped again on the first day of this new series, but this time in rather different fashion.
Had Brad Haddin held on to a straightforward chance with England's number five on a duck, Australia would have reduced the old enemy to 43-4 and rather fancied continuing where they left off at the Sydney Cricket Ground last January.
Had Root not got the skinniest inside edge on the ball before, he would have gone lbw for a golden duck.
Instead, 134 runs later, he had helped steer this fragile England side to an eventual 343-7 at the close, a position from which they can attack again with vigour. And that never happened last time, not once in three long nightmarish months.
'England in need of the head-start'
Such is the anticipation around the opening exchanges in an Ashes series that too much can be read into them.
Even before a ball has been bowled it begins: the murmur, shortly after Michael Clarke called incorrectly here, that the team that has won the toss on the first morning has won the last five Ashes series.
BBC cricket correspondent Jonathan Agnew
"In playing so fluently and busily, Joe Root showed exactly how to be positive in Test cricket. That's not necessarily by swiping the ball around in one-day mode. It's by pushing, running, finding the gaps and innovating."
Read more from
Aggers' column here.
Sometimes the pattern is set, as in 2006 when Australia ended the first day at the Gabba on 346-3 to launch themselves towards their 5-0 series win, or in 2002 when they closed on 364-2 en route to a 4-1 overall triumph.
At other times - not least in 2010, when England were dismissed for 260 on the first day in Brisbane yet bossed the series 3-1, or in 1997 when Australia were blown away for 118 before England advanced to 200-3 but dominated the bigger battle - the first few punches have been nothing but air shots.
This summer, England are the side in far greater need of a head-start out of the blocks. Australia may have won just one Test in England in their last 14. But that 5-0 series defeat is the more significant number in this contest.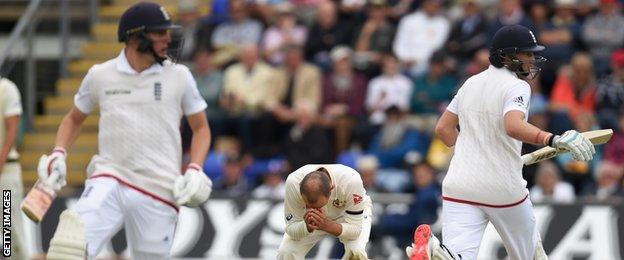 In that, Cardiff more closely resembled Trent Bridge two summers ago, when England were bowled out for just 215 by an Australian side that had been whitewashed in its previous series and sacked its coach just a fortnight before.
Can history be trusted to repeat? In Nottingham England had been 30-3 with less than an hour gone. On Wednesday they lost their third wicket for only 13 runs more.
At Trent Bridge, Ian Bell's dismissal triggered a grim statistical warning: it meant he averaged just 21 in 16 Test innings against Australia in England. Which provides the perfect example of how poor a barometer these first days can be; Bell would go on to be that series' leading run-scorer, his three centuries critical to each of England's three Test wins.
'England set a more encouraging tone'
Sometimes first days are more about creating atmospheres and expectations than delivering crushing blows.
Australia ended the opening day at Lord's in 2005 ahead in the game, reducing England to 92-7 despite having been bowled out for 190, but the bruises to their players' bodies and confidence, and the cut on captain Ricky Ponting's cheek, were the auguries of the punishment that would follow.
The loss of Root, Ben Stokes and Jos Buttler in the last hour of play in Cardiff checked England's momentum a little.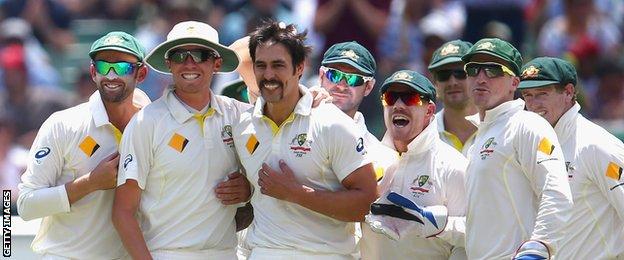 But even if the mood at the start of play had been low-key, the weather damp and the rendition of Land of My Fathers not a patch on that heard during Six Nations matches at the Millennium Stadium just down the Taff, a more encouraging tone has been set.
People have talked about the psychological scars of that 5-0 thrashing in 2013-14. That ignores the realities of that series, which instead saw the death of one team and the rebirth of the other.
That old England is gone, along with the coach who was hired in the aftermath to ensure it never happened again and the managing director who appointed him. Even the row over the star batsman who was jettisoned, wooed afresh and then dumped again may finally be coming to an end.
In its place is fragile optimism, even if it is based as much on a one-day series against different opposition as long-term logic.
Which is why Haddin's spill of Root, while not quite in the league of India wicketkeeper Kiran More's drop of Graham Gooch in 1990 when he was a mere 36 runs into his 333, could yet have such an impact on the series.
England batsman Joe Root
"I'm happy to be in the position we are in as team. Hopefully we can kick on in the morning. The longer we can keep them out there, the better it is for us. Hopefully tomorrow is one of those days where they take it to them and we score 400-plus."
Haddin himself was the beneficiary of such largesse at a critical stage of the previous series, being dropped on just five by Michael Carberry in the first innings of the second Test in Adelaide. He would go on to make 118, his partnership with Clarke snuffing out England's hope of a revival after their first Test hammering.
Root made similarly spectacular use of his own second life. In harness with Gary Ballance, the man who was picked in his place in Sydney and with whom he used to share a house in the Yorkshire village of Idle, he first shored up the innings and then constructed its frame.
Their partnership of 153 was bigger than any England managed in any Test down under. Root's century, off just 118 balls, was the fastest-ever century in the first Test of an Ashes series. His later partnership with Stokes brought up 50 off just 62 balls.
'It could all come to nothing'
Even if the flat pitch here drew the sting of the much-vaunted Aussie attack, the intent is clear.
Mitchell Johnson took 37 wickets at an average of 13 in 2013-14.
On Wednesday, Root - spavined by the left-armer's pace and aggression back then - took 24 runs off his first 18 balls. At the close Johnson was wicketless for 87 off 20 overs, and that old taunting song was even starting to be sung by the more bellicose members of the Barmy Army.
It could all come to nothing. Johnson's first ball in the first Test in 2013 was a full toss down the leg side. His first spell went for 15 off three wayward overs.
On the first day of that Test, Australia had at one stage been 132-6. By close on the second, England had lost six wickets for nine runs in 10 extraordinary overs to cede both a first innings deficit of 159 and all the seemingly unstoppable impetus of the previous summer.
Beware the lessons of the past. But look to the future with hope, if not confidence.