Minor Counties: Cornwall boss unhappy with umpires after draw
Last updated on .From the section Cricket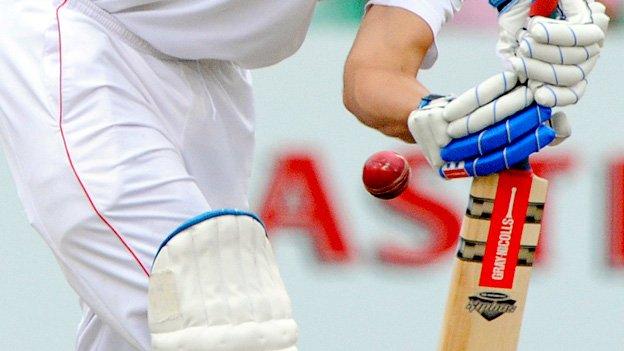 The manager of Cornwall's cricket team says a decision over bad light could cost his side the chance to win the Minor Counties Western Division.
Godfrey Furse says the umpires' decision to take the players off for bad light during the second day of their draw with Wiltshire ended any chance of a win for either side.
Cornwall are three points clear at the top of the division.
"If we'd have won this last game I'd have been totally confident," he said.
"But now it's down to who plays well in the last three games," Furse told BBC Radio Cornwall.
"They brought us off for bad light for no reason when you had 22 players wanting to play," he added
"If we'd have played the extra time, one of us would have won the match."
Cornwall have only won the Minor Counties title once in their history, in 2012, but are top of their division ahead of Berkshire and Oxfordshire after two big wins in their opening games.
Wiltshire ended the three-day match at St Austell on 338-9, needing just 14 more runs to win, with the Duchy needing just one more wicket for victory.
"A draw to us is worth four points, a win is worth 16, so if we would have lost we'd have been in almost the same position as we are now," Furse said.
"If we'd have won, one or two more wins would have guaranteed us the title, so it's very frustrating."