Ashes 2015: Risk-taking Australia reward England in Cardiff

By Jonathan Agnew
BBC cricket correspondent
Last updated on .From the section Cricket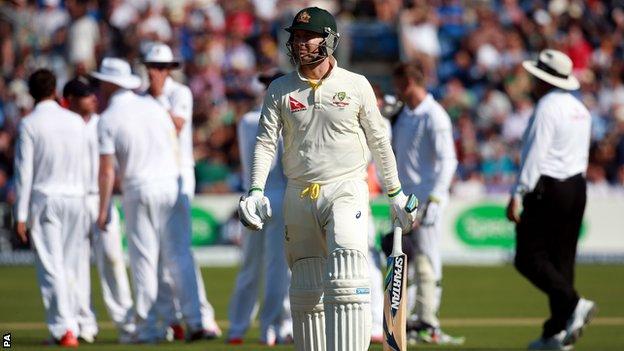 It is advantage England after two days of the first Ashes Test as they made Australia pay for their risky approach to batting.
He enjoyed a few slices of luck - a couple of edges flew past the stumps - but his cover drive really is a thing of beauty.
He reminds me of David Gower in the way he stands up over the ball and, without much foot movement, drives right through the ball.
Later on, with the ball in his hand, Moeen stood his ground really well as Australia went after him and capped an excellent day with the wickets of Steve Smith and Michael Clarke.
'Australia were impatient'
Australia's tactics were too obvious. They wanted to bang Moeen out of the attack so England would have to use their fast bowlers more often.
But, as India found out last year, attacking Moeen is dangerous, and especially on a pitch as slow as this.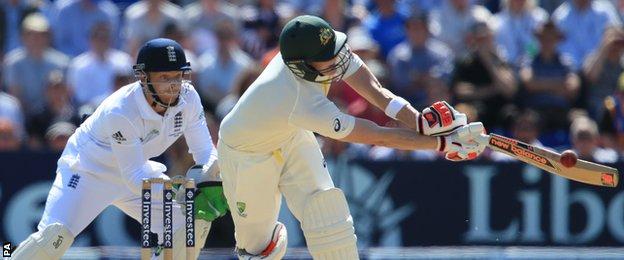 If you don't get your feet to the exact pitch of the ball you can easily mis-time your shot and that is what happened to Smith and Clarke.
Moeen is still developing as a bowler, so the shrewder tactic would have been to wait for the inevitable bad ball every couple of overs and hit it for four. But Australia were impatient - and they paid a heavy price.
'Anderson could have had more'
Moeen wasn't the only England bowler to excel. James Anderson bowled that fuller length, constantly probing for edges or lbws with a little bit of swing either way.
It was the best I've seen him bowl for a while, and he could easily have added to his single wicket.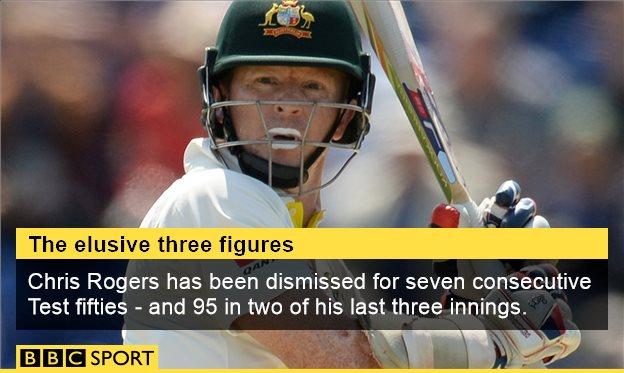 Mark Wood had a good day too, drawing praise from Glenn McGrath in the Test Match Special commentary box. He bowled at a decent pace, beat Clarke a couple of times for speed, swung the ball both ways and looked dangerous.
The Durham quick is also a bit of a character. In among the hard-working cricketers, you need a bit of a comedian and I think Wood has slotted nicely into that role in the England side.
'Johnson out of luck as Starc is flattered'
Talking of comedy, there will no doubt be lots of England supporters chuckling at Mitchell Johnson's bowling figures - the worst of his Test career - but I would write him off at your peril.
This is simply not his type of pitch and he didn't have much luck, either yesterday or today.
I would expect the pitch at Lord's for the second Test to offer a bit more pace and bounce, which would give Johnson a far greater chance of making an impact on the series.
Ex-England batsman Geoffrey Boycott on Test Match Special
"There is a lot of time left for England to win it. I'll be surprised if Australia get up to England's total. It can happen - someone can play brilliantly and Watson is a good player, but he has been known to struggle if you bowl straight around his pad. I think by the afternoon England will be batting, they will have a lead and we're only halfway through, so England still have a chance of winning. They are in it, really in it."
While Johnson's luck was out, Mitchell Starc was flattered by his figures as he picked up a five-wicket haul.
Starc has the ability to produce wicket-taking balls but he bowled an awful lot of junk in between and doesn't look entirely comfortable with the red ball after so much recent success in white-ball cricket.
'England will be delighted'
As Australia's pacemen toiled, Stuart Broad regained a bit of his confidence with the bat.
I didn't like the way he ducked a ball that hit him on the helmet, but he got 18 valuable runs, which should do him good. A couple more innings like that and he will get his eye back in.
England will be delighted with the way they have played over the first two days of the series. The conditions have smothered Australia and the hosts have taken full advantage.
If England can get a lead of about 100 and bat well second time round, they could have Australia really fighting towards the end of the game.
Jonathan Agnew was talking to BBC Sport's Sam Sheringham
Click here to listen to the latest Test Match Special Ashes podcast