Ashes 2015: Alastair Cook delighted by positive England
By Sam Sheringham
BBC Sport at Cardiff
Last updated on .From the section Cricket
A commitment to "showing off their talent" helped England's players stun Australia in the first Ashes Test, according to captain Alastair Cook.
"It was really important for this group of players to show we can compete with Australia," said Cook.
"If we can go out there and show off our talent, we are a dangerous side."
England's victory was founded on an attacking approach that has characterised their cricket in all three forms of the game this summer.
Former England captain Michael Vaughan on Test Match Special
"Everything Alastair Cook has touched has worked. He has been backed up very nicely by his bowling attack - they all have different styles. Stuart Broad has been outstanding - he has been the pick of the seamers. Then you've got the skiddy, quick Mark Wood, the swing of Jimmy Anderson, and Ben Stokes has a bit of licence. And the 12th and 13th man in the stands - the crowd has been excellent this week."
Cook said England had committed to playing "on the front foot" since Joe Root and Ben Stokes helped turn around the first Test of the summer against New Zealand at Lord's with a counter-attacking partnership.
"So far this summer, there has been a real feelgood factor about English cricket," said Cook.
"It started with that partnership between Joe and Ben when we were 30-4 at Lord's against New Zealand and it has carried on from there in all forms.
"We keep speaking about showing off our talent to people. That's why we have been picked for England, that's why we are possibly the best players in the country. There must be a reason we got there and we want to show off.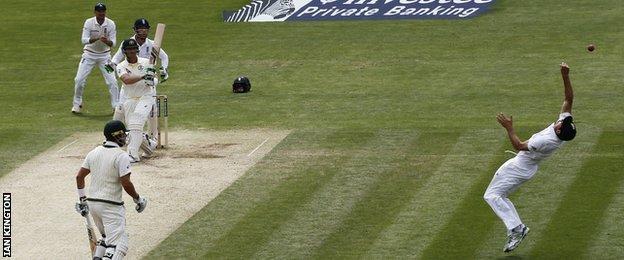 "You can't always play that way but there are times to get on the front foot. It is important."
England's success was in part down to an exceptional fielding display, as they clung on to almost every chance that presented itself.
Cook said a pre-Ashes training camp with new coach Trevor Bayliss had been crucial to the improvement in their fielding.
"The week in Spain, although nobody saw it, was fantastic," he said. "The amount catching we did there - six or seven guys as a unit, first thing in the morning, last thing at night, we came back with sore hands but we certainly got the reward from it."
Australia captain Michael Clarke admitted his team had been outplayed in all areas of the game after they were bowled out for 242 to succumb to a four-day defeat.
"England's batting in the first innings, their bowling throughout the whole game and their catching were exceptional," he said. "They deserve a lot of credit for how they prepared.
"Our shot selection was not as good as it needs to be. We've got some work to do before the second Test."
A relaxed Cook could even afford a laugh about the moment on the second day when he had to leave the field after the ball hit him in the groin.
"It was pretty painful and they are not feeling too happy but the swelling is pretty good," he said.