Glamorgan will bid to host Test match in 2022 Ashes series
Last updated on .From the section Cricket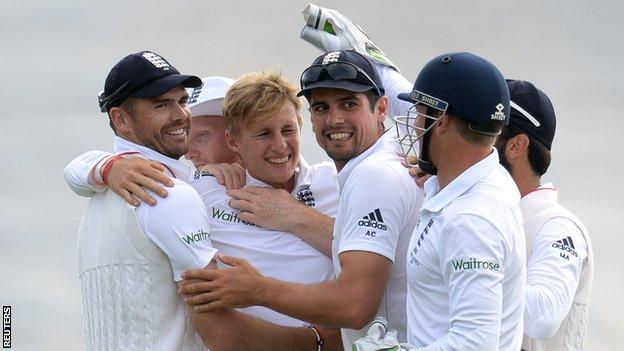 Glamorgan chief Hugh Morris is confident that Ashes cricket will return to Cardiff in 2022.
The SSE Swalec Stadium first hosted an England v Australia clash in 2009.
The venue saw another thriller last week as England won by 169 runs to take a 1-0 lead in the 2015 series.
"The way in which we've delivered this game - and indeed in 2009 - should give a lot of confidence to the ECB and others that we can deliver at the very highest levels," Morris said.
"So we'll be very keen on hosting another Ashes Test match here."
Glamorgan missed out on an Ashes match for 2019, with Headingley, Old Trafford, Lord's, The Oval and Edgbaston getting the nod.
The England and Wales Cricket Board has invited expressions of interest for the allocation of major matches between 2020 and 2023, with formal tenders expected to be lodged in early 2016.
Morris believes the Welsh county's success in staging the opening match of the 2015 series should stand them in good stead in the next round of bidding.
"It was fantastic, it was great not just for the club but also for the city of Cardiff and for Wales," said the Glamorgan chief executive and director of cricket.
"To host one of the biggest sporting occasions there is anywhere is a great privilege, pleasure and honour.
"It's obviously quite a nervous time going into it, but I thought my staff were fantastic and I thought we delivered on making Wales proud of putting on a great occasion.
"It's great that we're now an established international venue: to host the Ashes is great but you hope for good weather and you hope for a good game of cricket, and you hope that people enjoy themselves.
"All that really came together... both teams scored at four an over, 40 wickets were taken and there was lots and lots of excitement."
There had been early criticism of the Swalec Stadium pitch as being too slow and flat, but the game proved to be a thriller.
"It was frustrating early on, it was the same old people saying the same old things but I knew we'd prepared well," Moriss added.
"Over the period of four days those that were doubting us at the beginning I think were won over."
England and Australia will return to Cardiff on 31 August for a Twenty20 international.